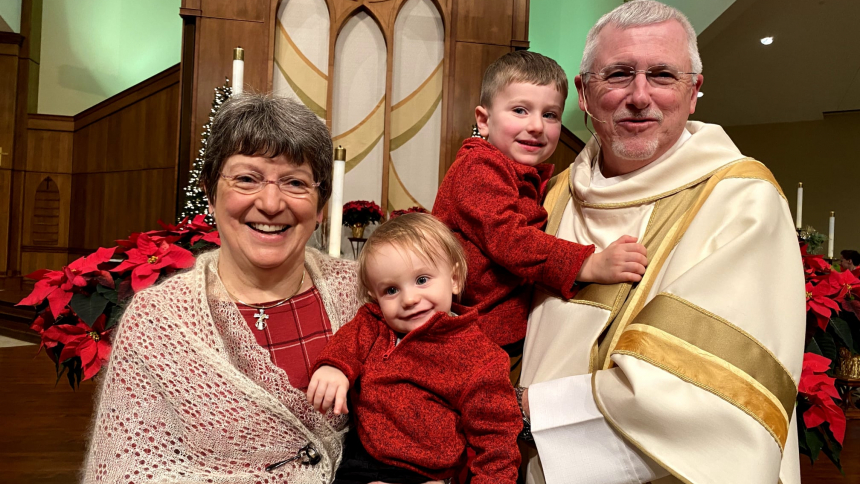 Welcome!  We are pleased to know you are considering the diaconate to serve our church and we are here to assist you.
Deacon Randy Desrochers has been serving in the Diocese as the Director of Diaconate Formation since 2016.   He was born in Sault Ste. Marie, Michigan, and in the fall of 1973 he moved to the Ann Arbor area first for college and then for medical school.   He and his wife Carol, of over 40 years, have remained in the area raising their four children for the last 45 years except, for a 4-year stint in the Army as a general surgeon.  Randy retired from medicine in 2014 after 33 years as a general surgeon.  He was ordained a permanent deacon in 2013 and is assigned to St. Joseph Parish in Dexter.
Deacon Gary and his wife, Mary have been married 35 years, they have 6 beautiful children and 3 grandchildren. They reside in Saline.  Dcn. Gary has a business degree from Eastern Michigan University and completed his academic formation for the diaconate with a Master of Arts Degree in Pastoral Theology from Holy Apostles College Seminary.  Ordained in 2019, he was assigned to St. Joseph in Ypsilanti where he and Mary support the various needs of the parish. Mary is certified to offer Spiritual Direction and Dcn. Gary works for a medical device company.
So, How do You Know if God is Calling You to Be a Deacon? Below are different discernment links to see if they answer some of your questions.    If you need to speak to someone, Dcn. Randy is available by email rdesrochers@dioceseoflansing.org or by calling 517-342-2571.    Or Dcn. Gary by email at gperrydore@dioceseoflansing.org.  To know what is required of you?  Click the link called "Pathway to the Diaconate"
RESOURCES TO CONSIDER
2nd Edition National Directory of formation, ministry, and life of a Permanent Deacon.
Discerning a Vocation for the Church
What is it like for a Deacon's wife