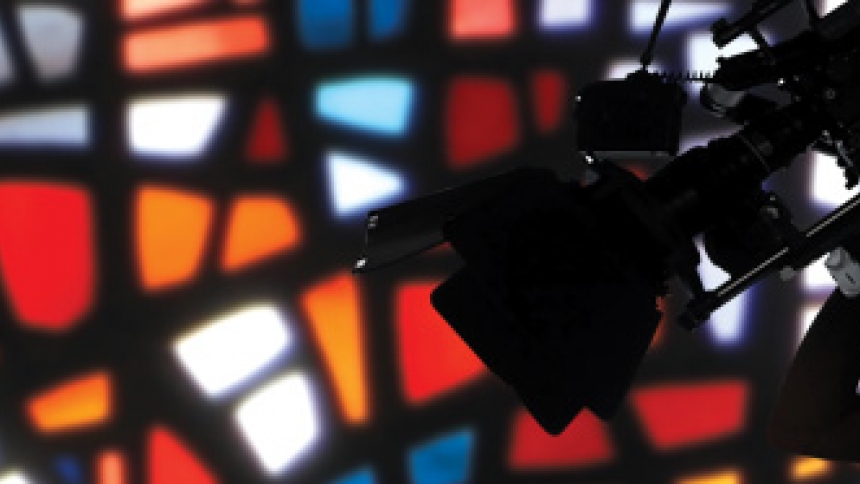 Each Sunday, the Diocese of Lansing airs the televised Outreach Mass. The Mass airs at 6:00 AM and 10:00 AM on WLAJ Lansing TV53, and at 10:00 AM on WBSF-TV Flint Channel 46 (CW Network).  Please contact your local cable provider for channel information.
The Outreach Mass is also heard each Sunday on Good Shepherd Catholic Radio Jackson on 1510-AM and 93.3-FM, at 12:00 PM.
Community Television Network, Cable Channels 17 Ann Arbor Monday, 6/8/20 at 5:00pm.
Additional replay times include: Wednesday, 6/10 at 11:00am; Thursday, 6/11 at 7:00pm; and Saturday, 6/13 at 10:00am; all on cable channel 17.
Nineteenth Sunday in Ordinary Time
August 7, 2022
Celebrant: Father Peter Ludwig
Mass (video)
Homily (video)
Homily (audio mp3)
Eighteenth Sunday in Ordinary Time
July 31, 2022
Celebrant: Father Gordon Reigle
Mass (video)
Homily (video)
Homily (audio mp3)
Seventeenth Sunday in Ordinary Time
July 24, 2022
Celebrant: Father Michael Cassar
Concelebrant: Father Elizalde Rafol
Mass (video)
Homily (video)
Homily (audio mp3)
Sixteenth Sunday in Ordinary Time
July 17, 2022
Celebrant: Father Gordon Reigle
Deacon: Dave Drayton
Mass (video)
Homily (video)
Homily (audio mp3)
Fifteenth Sunday in Ordinary Time
July 10, 2022
Celebrant: Father Peter Ludwig
Deacon: Jim Kasprzak
Mass (video)
Homily (video)
Homily (audio mp3)
Fourteenth Sunday in Ordinary Time
July 3, 2022
Celebrant: Father Michael Cassar
Mass (video)
Homily (video)
Homily (audio mp3)
Thirteenth Sunday in Ordinary Time
June 26, 2022
Celebrant: Father Jerry Ploof
Mass (video)
Homily (video)
Homily (audio mp3)
The Most Holy Body And Blood Of Christ
June 19, 2022
Celebrant: Father Michael Cassar
Mass (video)
Homily (video)
Homily (audio mp3)
Deacon: Jim Kasprzak
Deacon: Dave Zygmontowicz
The Most Holy Trinity
June 12, 2022
Celebrant: Father Matthew Bonk
Mass (video)
Homily (video)
Homily (audio mp3)
Pentecost
June 5, 2022
Celebrant: Father Gordon Reigle
Mass (video)
Homily (video)
Homily (audio mp3)
The Ascension of the Lord
May 29, 2022
Celebrant: Father Jerry Ploof
Deacon: Dave Zygmontowicz
Mass (video)
Homily (video)
Homily (audio mp3)
Sixth Sunday of Easter
May 22, 2022
Celebrant: Father Michael Cassar
Mass (video)
Homily (video)
Homily (audio mp3)
Fifth Sunday of Easter
May 15, 2022
Celebrant: Father Matthew Bonk
Mass (video)
Homily (video)
Homily (audio mp3)
Fourth Sunday of Easter
May 8, 2022
Celebrant: Father Gordon Reigle
Deacon: Jim Kasprzak
Deacon: Dave Zygmontowicz
Mass (video)
Homily (video)
Homily (audio mp3)
Third Sunday of Easter
May 1, 2022
Celebrant: Father Michael Cassar
Mass (video)
Homily (video)
Homily (audio mp3)
Second Sunday of Easter
April 24, 2022
Celebrant: Father Matthew Bonk
Mass (video)
Homily (video)
Homily (audio mp3)
Easter Vigil
April 17, 2022
Celebrant: Father Gordon Reigle
Conelebrants: Father Matthew Bonk
Conelebrants: Father Michael Cassar
Deacon: Jim Kasprzak
Mass (video)
Homily (video)
Homily (audio mp3)
Palm Sunday
April 10, 2022
Celebrant: Father Michael Cassar
Deacon: Jim Kasprzak
Mass (video)
Homily (video)
Homily (audio mp3)
Fifth Sunday of Lent
April 3, 2022
Celebrant: Father Matthew Bonk
Mass (video)
Homily (video)
Homily (audio mp3)
Fourth Sunday of Lent
March 27, 2022
Celebrant: Father Jerry Ploof
Mass (video)
Homily (video)
Homily (audio mp3)
Third Sunday of Lent
March 20, 2022
Celebrant: Father Michael Cassar
Deacon: Jim Kasprzak
Mass (video)
Homily (video)
Homily (audio mp3)
Second Sunday of Lent
March 13, 2022
Celebrant: Father Matthew Bonk
Mass (video)
Homily (video)
Homily (audio mp3)
First Sunday of Lent
March 6, 2022
Celebrant: Father Gordon Reigle
Deacon: Jim Kasprzak
Mass (video)
Homily (video)
Homily (audio mp3)
Eighth Sunday in Ordinary Time
February 27, 2022
Celebrant: Father Michael Cassar
Mass (video)
Homily (video)
Homily (audio mp3)
Seventh Sunday in Ordinary Time
February 20, 2022
Celebrant: Father Matthew Bonk
Mass (video)
Homily (video)
Homily (audio mp3)
Sixth Sunday in Ordinary Time
February 13, 2022
Celebrant: Father Gordon Reigle
Deacon: Jim Kasprzak
Deacon: Dave Zygmontowicz
Mass (video)
Homily (video)
Homily (audio mp3)
Fifth Sunday in Ordinary Time
February 6, 2022
Celebrant: Father Michael Cassar
Mass (video)
Homily (video)
Homily (audio mp3)
Fourth Sunday in Ordinary Time
January 30, 2022
Celebrant: Father Jerry Ploof
Deacon: Dave Drayton
Deacon: Dave Zygmontowicz
Mass (video)
Homily (video)
Homily (audio mp3)
Third Sunday in Ordinary Time
January 23, 2022
Celebrant: Father Matthew Bonk
Deacon: Dave Zygmontowicz
Mass (video)
Homily (video)
Homily (audio mp3)
Second Sunday in Ordinary Time
January 16, 2022
Celebrant: Father Gordon Reigle
Deacon: Dave Zygmontowicz
Mass (video)
Homily (video)
Homily (audio mp3)
The Baptism of the Lord
January 9, 2022
Celebrant: Father Michael Cassar
Mass (video)
Homily (video)
Homily (audio mp3)
Epiphany
January 2, 2022
Celebrant: Father Jerry Ploof
Deacon: Dave Drayton
Deacon: Peter Ludwig
Deacon: Jim Kasprzak
Deacon: Dave Zygmontowicz
Mass (video)
Homily (video)
Homily (audio mp3)
The Holy Family of Jesus, Mary, and Joseph
December 26, 2021
Celebrant: Father Gordon Reigle
Mass (video)
Homily (video)
Homily (audio mp3)
Christmas Vigil
December 25, 2021
Celebrant: Father Gordon Reigle
Deacon: Jim Kasprzak
Mass (video)
Homily (video)
Homily (audio mp3)
Fourth Sunday of Advent
December 19, 2021
Celebrant: Father Michael Cassar
Deacon: Dave Zygmontowicz
Mass (video)
Homily (video)
Homily (audio mp3)
Third Sunday of Advent
December 12, 2021
Celebrant: Father Gordon Reigle
Deacon: Dave Zygmontowicz
Mass (video)
Homily (video)
Homily (audio mp3)
Second Sunday of Advent
December 5, 2021
Celebrant: Bishop Earl Boyea
Concelebrant: Father Gordon Reigle
Mass (video)
Homily (video)
Homily (audio mp3)
First Sunday of Advent
November 28, 2021
Celebrant: Father Jerry Ploof
Mass (video)
Homily (video)
Homily (audio mp3)
Our Lord Jesus Christ King Of The Universe
November 21, 2021
Celebrant: Father Michael Cassar
Deacon: Jim Kasprzak
Mass (video)
Homily (video)
Homily (audio mp3)
Thirty-Third Sunday in Ordinary Time
November 14, 2021
Celebrant: Father Matthew Bonk
Mass (video)
Homily (video)
Homily (audio mp3)
Thirty-Second Sunday in Ordinary Time
November 7, 2021
Celebrant: Father Gordon Reigle
Mass (video)
Homily (video)
Homily (audio mp3)
Thirty-First Sunday in Ordinary Time
October 31, 2021
Celebrant: Father Michael Cassar
Deacon: Dave Zygmontowicz
Mass (video)
Homily (video)
Homily (audio mp3)
Thirtieth Sunday in Ordinary Time
October 24, 2021
Celebrant: Father Jerry Ploof
Mass (video)
Homily (video)
Homily (audio mp3)
Twenty-Ninth Sunday in Ordinary Time
October 17, 2021
Celebrant: Father Gary Koenigsknecht
Deacon: Jim Kasprzak
Mass (video)
Homily (video)
Homily (audio mp3)
Mass for the Ordination of Deacons
October 3, 2021
Celebrant: Bishop Earl Boyea
Concelebrants: Bishop Carl F. Mengeling
Concelebrants: Auxiliary Bishop F. Richard Van Handel Spencer
Mass (video)
Homily (video)
Homily (audio mp3)
Twenty-Sixth Sunday in Ordinary Time
September 26, 2021
Celebrant: Father Michael Cassar
Mass (video)
Homily (video)
Homily (audio mp3)
Twenty-Fifth Sunday in Ordinary Time
September 19, 2021
Celebrant: Father Jerry Ploof
Deacon: Jim Kasprzak
Mass (video)
Homily (video)
Homily (audio mp3)
Twenty-Fourth Sunday in Ordinary Time
September 12, 2021
Celebrant: Bishop Earl Boyea
Concelebrant: Father Gordon Reigle
Deacon: Jim Kasprzak
Deacon: Dave Zygmontowicz
Mass (video)
Homily (video)
Homily (audio mp3)
Twenty-Third Sunday in Ordinary Time
September 5, 2021
Celebrant: Father Gordon Reigle
Mass (video)
Homily (video)
Homily (audio mp3)
Twenty-Second Sunday in Ordinary Time
August 29, 2021
Celebrant: Father Gordon Reigle
Deacon: Dave Zygmontowicz
Mass (video)
Homily (video)
Homily (audio mp3)
Twenty-First Sunday in Ordinary Time
August 22, 2021
Celebrant: Father Gordon Reigle
Mass (video)
Homily (video)
Homily (audio mp3)
The Assumption of the Blessed Virgin Mary
August 15, 2021
Celebrant: Father Michael Cassar
Mass (video)
Homily (video)
Homily (audio mp3)
Nineteenth Sunday in Ordinary Time
August 8, 2021
Celebrant: Father Jerry Ploof
Deacon: Dave Drayton
Deacon: Jim Kasprzak
Deacon: Peter Ludwig
Mass (video)
Homily (video)
Homily (audio mp3)
Eighteenth Sunday in Ordinary Time
August 1, 2021
Celebrant: Father Matthew Bonk
Deacon: Peter Ludwig
Mass (video)
Homily (video)
Homily (audio mp3)
Seventeenth Sunday in Ordinary Time
July 25, 2021
Celebrant: Father Jerry Ploof
Deacon: Dave Drayton
Mass (video)
Homily (video)
Homily (audio mp3)
Sixteenth Sunday in Ordinary Time
July 18, 2021
Celebrant: Father Gordon Reigle
Deacon: Dave Zygmontowicz
Mass (video)
Homily (video)
Homily (audio mp3)
Fifteenth Sunday in Ordinary Time
July 11, 2021
Celebrant: Father Michael Cassar
Deacon: Peter Ludwig
Mass (video)
Homily (video)
Homily (audio mp3)
Fourteenth Sunday in Ordinary Time
July 4, 2021
Celebrant: Father Matthew Bonk
Mass (video)
Homily (video)
Homily (audio mp3)
Thirteenth Sunday in Ordinary Time
June 27, 2021
Celebrant: Father Jerry Ploof
Mass (video)
Homily (video)
Homily (audio mp3)
Twelfth Sunday in Ordinary Time
June 20, 2021
Celebrant: Father Mark Martin
Concelebrants: Father Matthew Bonk
Concelebrants: Father Gordon Reigle
Concelebrants: Father John Whitlock
Deacons: Jim Kasprzak
Deacons: Peter Ludwig
Deacons: Dave Zygmontowicz
Mass (video)
Homily (video)
Homily (audio mp3)
Eleventh Sunday in Ordinary Time
June 13, 2021
Celebrant: Father Gordon Reigle
Deacon: Dave Zygmontowicz
Mass (video)
Homily (video)
Homily (audio mp3)
Most Holy Body and Blood of Christ
June 6, 2021
Celebrant: Father Gordon Reigle
Deacon: Peter Ludwig
Mass (video)
Homily (video)
Homily (audio mp3)
Most Holy Trinity
May 30, 2021
Celebrant: Father Matthew Bonk
Mass (video)
Homily (video)
Homily (audio mp3)
Pentecost Sunday
May 23, 2021
Celebrant: Father Michael Cassar
Deacon: Jim Kasprzak
Deacon: Peter Ludwig
Deacon: Dave Zygmontowicz
Mass (video)
Homily (video)
Homily (audio mp3)
Seventh Sunday of Easter
May 16, 2021
Celebrant: Father Matthew Bonk
Deacon: Jim Kasprzak
Mass (video)
Homily (video)
Homily (audio mp3)
Sixth Sunday of Easter
May 9, 2021
Celebrant: Father Gordon Reigle
Deacon: Dave Zygmontowicz
Mass (video)
Homily (video)
Homily (audio mp3)
Fifth Sunday of Easter
May 2, 2021
Celebrant: Father Jerry Ploof
Mass (video)
Homily (video)
Homily (audio mp3)
Fourth Sunday of Easter
April 25, 2021
Celebrant: Father Michael Cassar
Mass (video)
Homily (video)
Homily (audio mp3)
Third Sunday of Easter
April 18, 2021
Celebrant: Father Matthew Bonk
Mass (video)
Homily (video)
Homily (audio mp3)
Second Sunday of Easter
April 11, 2021
Celebrant: Father Jerry Ploof
Deacons Jim Kasprzak
Mass (video)
Homily (video)
Homily (audio mp3)
Easter Vigil
April 4, 2021
Celebrant: Father Gordon Reigle
Concelebrants: Father Matthew Bonk
Concelebrants: Father Michael Cassar
Deacons Jim Kasprzak
Deacons Dave Zygmontowicz