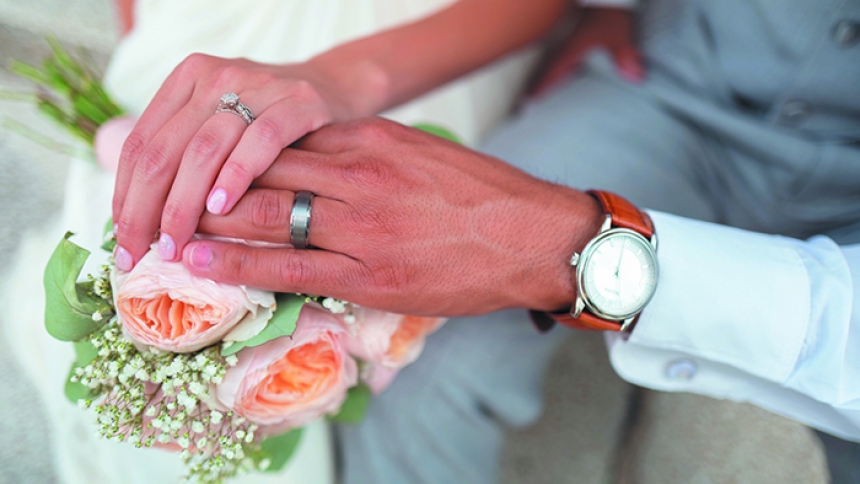 Congratulations on your engagement! This is such a joyful and exciting time in your life and we are thrilled for you! The sacrament of matrimony is a powerful sacrament binding two hearts and lives into one. Your marriage will also be a daily witness of God's love in our diocese and world. Your parish is eager to help you prepare for your future life as a spouse and parent, so connect with them as soon as you are able. Below you will find additional resources and information to aid in your preparation.
Good luck as you journey to your big day and God bless! 
General Requirements
Nine (9) months preparation time.
Attend six (6) hrs of We C.A.R.E. classes. (see below for more details)
Attend the Catholic Faith Formation sessions in your Region. (see your Pastor for information)
Attend the Introduction to Natural Family Planning 
Complete the marriage inventory/questionnaire and consultation that your Priest or Deacon assigns.
---
We C.A.R.E. Seminars
We C.A.R.E. is a communication and relationship enhancement program for engaged couples sponsored by local Catholic Charities agencies and the Family Life Office of the Diocese of Lansing. This highly acclaimed program is designed to teach engaged couples communication skills and techniques for handling conflict and promoting intimacy in a Christian relationship. 
Links to schedules and registration forms for upcoming We C.A.R.E seminars near you can be found to the right under Resource Links. 
---
Marriage Resources
Basic Catholic Teaching for Marriage
---
For ReMarriage Couples
Attend the Smart Steps for Step Families program and/or:
Complete the ReMarriage inventory/questionnaire and consultation from your Pastor or Deacon.