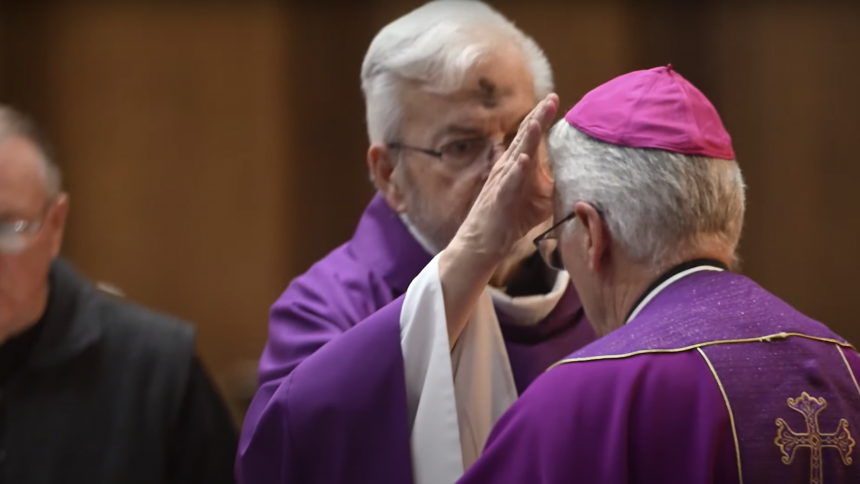 Watch this brief but powerful Ash Wednesday message from Bishop Earl Boyea of Lansing as he urges all of us to "seize the day" by repenting of our past ways and embracing the disciples of Lent: prayer, fasting and almsgiving.
"We are all great at procrastinating and putting off till tomorrow, what we really shouldn't do today," said Bishop Boyea to the congregation in Saint Mary Cathedral, Lansing, February 22, just prior to the distribution of ashes.
"Accepting Him [Christ] means we have everything to win. Rejecting him means we have everything to lose. So seize the day! Yet if we have failed to grasp this moment for a few days, or a few months, or even for many years, it is never too late .... until it is too late."
Ash Wednesday marks the beginning of the season of Lent. What is Lent? Well, according to the Gospels of St Matthew, St Mark and St Luke, Jesus Christ spent 40 days fasting in the desert, where he endured temptation by Satan. Lent originated as a mirroring of this: Fasting, praying and giving alms in preparation for the great Solemnity of Easter Sunday.
Ash Wednesday derives its name from the practice of blessing ashes made from palm branches blessed on the previous year's Palm Sunday, and placing them on the heads of penitents to the accompaniment of the words "Repent, and believe in the Gospel" or "Remember that you are dust, and to dust you shall return."
"My sisters and brothers as these ashes are placed on us, may our pride and self contentment collapse like ashes," concluded Bishop Boyea.
"And may there arise in that place, hearts truly rent with a surpassing love of God and of neighbor. May we decrease and may God increase, even now. God bless you all."