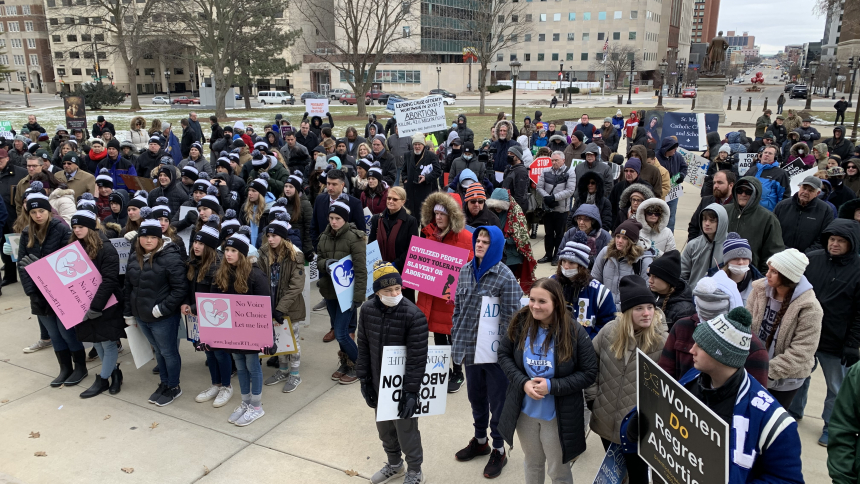 Priests and parishioners from across the Diocese of Lansing were among those who gathered on the steps of the Michigan State Capitol in Lansing today to pray that this is the last year they will assemble to prayerfully mourn the anniversary of the Supreme Court's decision of January 1973 legalizing abortion across the United States.
"This year we gather with a new sense of hope, one that we have not felt for a long time – we are finally and legitimately looking at the prospect that this may be the very last Roe v Wade memorial event," said Ed Rivet, President of Ingham County Right to Life, January 19.
"We may, after 49 years of mourning the scourge of abortion in our land, see the end of the Roe vs Wade era. It will be no more."
At present, the nine justices of the US Supreme Court are considering the case of Dobbs v. Jackson Women's Health Organization. This case is a challenge to Mississippi's Gestational Age Act, which prohibits all abortions, with few exceptions, after 15 weeks.
In order to uphold the democratically approved law, the State of Mississippi is seeking to overturn the two historic legal decisions which underpin America's current abortion regime: Roe v. Wade (1973) and Planned Parenthood v. Casey (1992).
Those gathered in Lansing today were led in prayer by Father John Fain, Pastor of Saint Therese Parish in Lansing. They also heard how pro-abortion groups in the Michigan have now launched a ballot initiative to enshrine a "right to abortion" in the state's constitution.
The ballot drive is being spearheaded by Planned Parenthood Advocates of Michigan and the American Civil Liberties Union of Michigan. Organizers of the initiative will need about 425,000 valid voter signatures to put it before the electorate in November of this year.
"Abortion advocates are sensing a major sea change is coming, they are becoming desperate and making plans of their own," explained Ed Rivet.
"The year 2022 will define Michigan's future on the sanctity of human life for a long time to come – we must be prepared to double and triple our commitment to this cause."
Michigan currently has a 1931 abortion law on its books that makes it a felony for anyone to provide an abortion to a pregnant mother unless "necessary to preserve the life of such woman". That law was upheld in a 1972 state-wide referendum by 61% to 39% of voters. The 1931 law is currently overridden but Roe v Wade but would, in theory, be re-enacted across Michigan if the if Roe v Wade is struck down by the Supreme Court in the coming months.
• The Diocese of Lansing's Office of Marriage & Family Life has created a web page containing various resources relating to the Dobbs v. Jackson Women's Health Organization case: https://www.dioceseoflansing.org/Dobbs