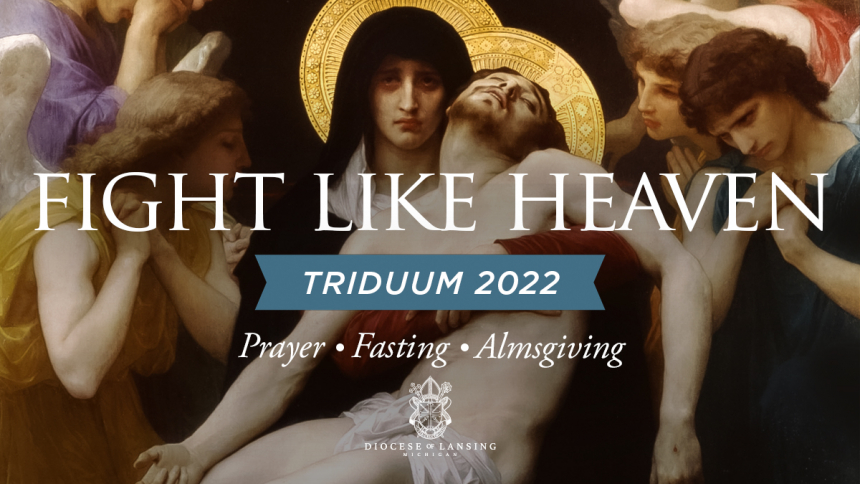 April 8, 2022
Friday of the Fifth Week of Lent
Dear brothers and sisters in Christ,
Yesterday the Governor of Michigan launched a lawsuit asking our state Supreme Court to enshrine legalized abortion as a constitutional right according to Michigan's Constitution.
This legal move disregards the will of the people of Michigan as established over several generations. It was in 1931 that the State of Michigan lawfully and democratically enacted comprehensive pro-life legislation. This is our present law. In 1972, proponents of legalized abortion brought that law before voters in a statewide ballot initiative. The people of this state once again rejected abortion. This is the last time the issue was tested at the ballot box. The following year, the U.S. Supreme Court's Roe v. Wade ruling legalized abortion across the United States. In its wake, however, the Michigan state Supreme Court's People v. Bricker ruling found that it "is the public policy of the state to proscribe abortion," and maintained Michigan's abortion ban to the extent it did not conflict with federal constitutional requirements.
I am sure that there are many, on all sides of the abortion debate, who are troubled by such a weighty issue of public policy being imposed by judicial fiat rather than decided upon by the will of the people as mediated through our well-established democratic structures.
If the people of Michigan were allowed to have their say in 1931 and 1972, the people of Michigan and their elected representatives should not be denied their say in 2022. I believe that the good people of this great state would continue to embrace a culture of life. Perhaps it is this fear that has motivated this week's legal maneuverings.
Why my confidence in the continued good judgement of Michigan voters? Because we know much more about the disturbing reality of abortion now than we ever did in 1931 or 1972. Medical advances have only further confirmed the humanity of the unborn. The fetal heartbeat can be confirmed as early as six weeks. A 2020 study found that an unborn baby can feel pain as early as 12 weeks. Babies have survived earlier and earlier in pregnancy, with the earliest surviving premature baby being born in the 21st week of pregnancy. And who can deny the unborn infant's humanity after seeing a 3-D image of one's own child or grandchild?
Over the past 50 years, we have also learned that abortion not only takes the unborn child's life, it also harms the mother. We all know of women who feel they were deceived into the belief that abortion was their only option or were even coerced into having an abortion. There are also many women who have later come to regret their abortion, suffering from post-abortion stress syndrome. Yet some still claim that a woman's freedom is dependent upon taking the unborn life of her child. This is as tragic as it is untrue. Women deserve better than abortion.
So, what is to be done? The Governor says she will "fight like hell" to prevail in this matter. In response, we Christians should "fight like heaven." What does that entail? First love! Love has to be our motivation in all we do when responding to this latest legal action: Love for mothers; love for the unborn; love for those who suffer post-abortive trauma; love for the common good; love for all who hold public office including Governor Whitmer and the seven Justices of the Michigan Supreme Court.
Second, to "fight like heaven" also compels us to employ the three great spiritual weapons of the Christian life: Prayer, fasting and almsgiving. As Saint Peter Chrysologus wrote in the 5th century:
"Fasting is the soul of prayer, mercy is the lifeblood of fasting. Let no one try to separate them; they cannot be separated. If you have only one of them or not all together, you have nothing." Saint Peter assures us that, "Prayer knocks at the door, fasting obtains, mercy receives." Hence, during this coming Holy Week, I am calling upon all people of goodwill to embrace these three things:
Prayer: Let us more closely unite ourselves this Holy Week to Christ's Paschal Mystery. Many will do this by attending the Holy Triduum: The Mass of the Lord's Supper on Holy Thursday; the Passion of the Lord on Good Friday; and the Mass of the Resurrection of the Lord at the Easter Vigil.
Fasting: Let us observe a fast from Holy Thursday evening through Holy Saturday evening. For us Catholics, Good Friday is also a day of abstinence from meat.
Almsgiving: Let us give generously during the three days of the Triduum to pro-life charities and, especially, to those organizations that walk with pregnant mothers by offering authentic compassion and practical support at times of personal and familial crisis.
Abortion is never the answer. It is always a failure. There is a better way.
Thus, as we begin our Holy Week pilgrimage, let us remain faithful to Christ, even unto Calvary, assured that only his victory come Easter can overcome our present culture of death and hasten a new civilization of love.
Assuring you of my prayers, I am sincerely yours in Christ,
The Most Reverend Earl Boyea
Bishop of Lansing