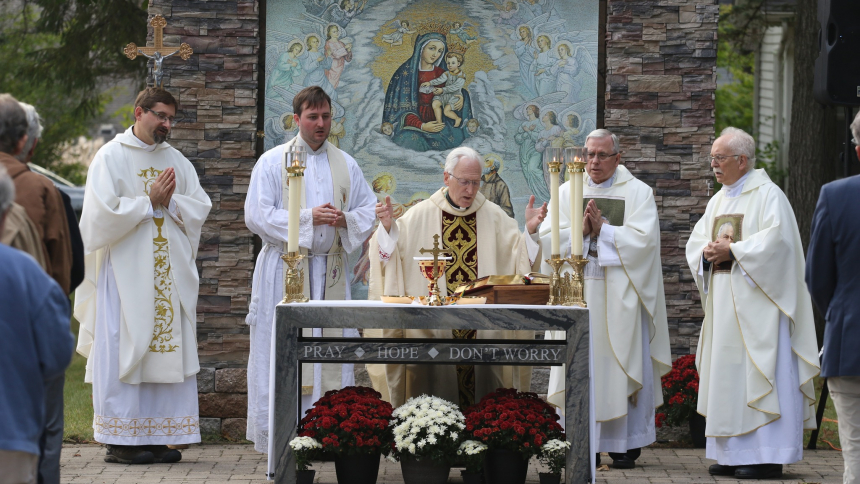 A Catholic healthcare group has won a long-running legal battle to erect a shrine inspired by Saint Padre Pio upon 40-acres of land near Howell in Livingston County.
The victory for Catholic Healthcare International was delivered on Monday, September 11, after the U.S. Court of Appeals for the Sixth Circuit unanimously granted a preliminary injunction against Genoa Township who have been attempting to block the development of the shrine for three years.
"This was an important victory for religious freedom," said Senior Counsel of the American Freedom Law Center, Robert Muise, who argued the case on behalf of Catholic Healthcare International before the Sixth Circuit this past July.
"We have been fighting with the Township and its attorneys for nearly three years on what should be basic and fundamental principles of law. Finally, the Sixth Circuit weighed in and vindicated our clients' fundamental right to religious liberty."
The land upon which the legal dispute centered was donated by the Diocese of Lansing to Catholic Healthcare International in 2020. The organization's apostolate is inspired by the 20th century Italian Capuchin friar Saint Padre Pio and, especially, his example of caring for the sick and dying.
Catholic Healthcare International soon erected an altar, a mural dedicated to Our Lady, and a Stations of the Cross upon the Livingston County site. They also unveiled plans to also build a small chapel for pilgrims. Bishop Boyea of Lansing celebrated Holy Mass at the location upon the Feast of Saint Padre Pio on September 23 of that year (see image).
Genoa Township, however, soon objected to the plans claiming that they were "not consistent" with the township's master plan. In 2021 they sued Catholic Healthcare International after which the religious displays were removed from the site.
This week, the three judges of the U.S. Court of Appeals for the Sixth Circuit ruled that Catholic Healthcare International had demonstrated a substantial likelihood of prevailing on the merits of its claim under the Religious Land Use and Institutionalized Persons Act (RLUIPA), a federal law that prohibits the government from imposing a land use regulation that substantially burdens religious exercise.
"While this is an important victory, the fact that it has taken this long to get where we are in this case is a sad indictment of where we are today as a nation. Unfortunately, we have to fight tooth and nail for what should be basic and fundamental rights," said Robert Muise.
The appeals court have now asked that Catholic Healthcare International be able to restore those structures before September 23 — the feast day for Saint Padre Pio.