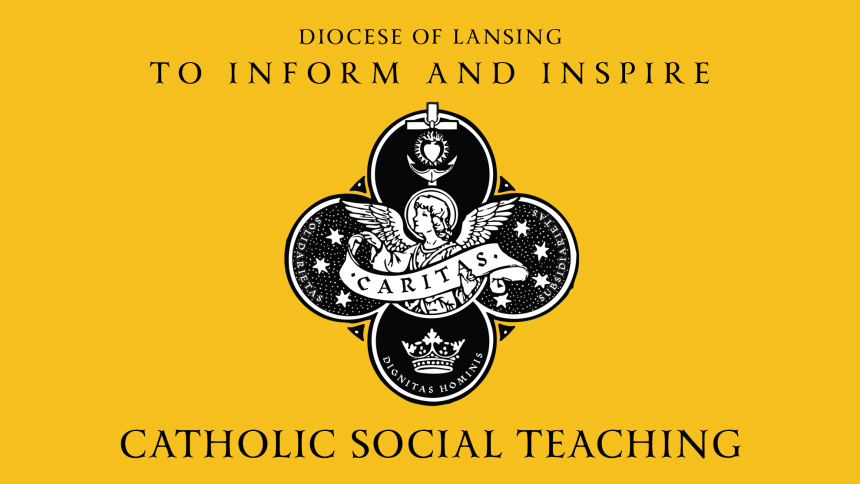 The recently established Diocese of Lansing Commission on Catholic Social Teaching is now offering mini grants to fund endeavors and programs that will equip both the clergy and lay faithful of the Diocese of Lansing in understanding and putting into practice Catholic Social Teaching.
The Church's social teaching is a rich treasury of wisdom about living lives of holiness and building a just society amidst the challenges of contemporary life.
Hence, the Diocese of Lansing seeks to respond - in truth and in love - to the growing number of social concerns, including the sanctity of human life, the dignity of the person, religious liberty, marriage and family, poverty, solidarity, and care for creation.
With this in mind, Bishop Boyea established the Diocesan Commission on Catholic Social Teaching in 2021 to assist him in his ministry to catechize all the baptized in the Diocese of Lansing on the principles of Catholic social teaching, advance the dignity of the human person, and to promote the common good of society.
The nine-person commission serves as a resource to the diocesan curia and parishes, to coordinate local and diocesan-wide efforts promoting Catholic social teaching.
These new mini grants will fund programs that address these important issues, outlined above, in light of Catholic Social Teaching, ideally combining catechesis with hands-on endeavors to advance our understanding and practice of Catholic social teaching within the diocese.
Individuals may apply for these funds on behalf of parishes, schools, or other established Catholic entities within the Diocese of Lansing. To apply for funding, return the application below (including case statement) as well as the pastor's letter of support, by June 15, 2022. Grant recipients will be selected by the Diocesan Commission on Catholic Social Teaching by the Fall of 2022.
To find out more and download the application form go to: https://www.dioceseoflansing.org/social-teaching