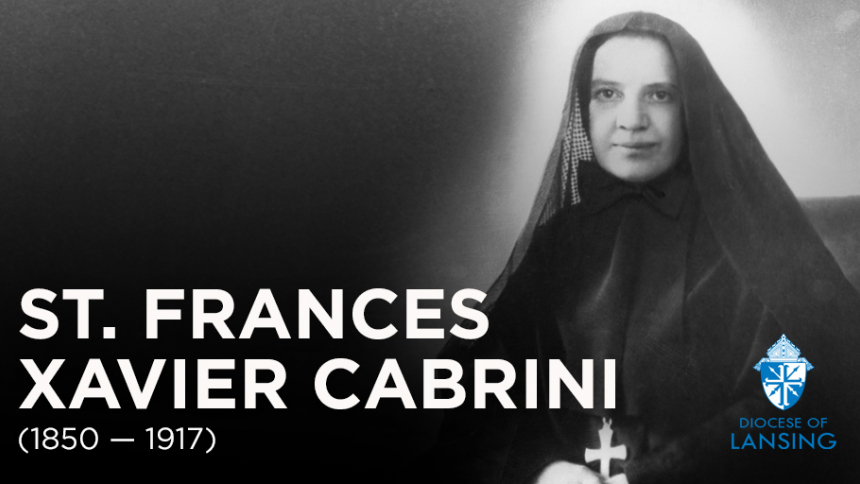 Today is the Feast of St. Frances Xavier Cabrini (1850-1917), the first naturalized citizen of the United States to become a canonized saint. Happy feast day!
"The life of Mother Cabrini is a great reminder to all us present day citizens of the United States, and everybody else for that matter, that if we entrust ourselves to the loving providence of God, our lives will unfold in a wonderful, unexpected and joyful way that brings forth an apostolic harvest one hundredfold in its bounty," said Craig Pohl, Director of New Evangelization for the Diocese of Lansing, 13 November.
Frances Cabrini was born July 15, 1850, in Sant'Angelo Lodigiano, in the Lombard Province of Lodi, then part of the Austrian Empire, the youngest of the thirteen children of Mike Cabrini and Stella Oldini, who were wealthy cherry tree farmers.
After the deaths of her parents in 1870, she applied for admission to the religious congregation of the Daughters of the Sacred Heart at Arluno. She became the headmistress of the House of Providence orphanage in Codogno, where she taught, and drew a small community of women to live a religious way of life. Young Francis took religious vows in 1877 and added Xavier to her name to honor the Jesuit saint, Francis Xavier, the patron saint of missionary service.
In November 1880, she and six other women who had taken religious vows with her founded the Missionary Sisters of the Sacred Heart of Jesus. Mother Cabrini composed the Rule and Constitutions of the religious institute, and she continued as its superior general until her death in 1917. The sisters took in orphans and foundlings, opened a day school to help pay expenses, started classes in needlework and sold their fine embroidery to earn a little more money.
In September 1877, Mother Cabrini went to seek approval of Pope Pius IX to establish missions in China. Instead, he suggested to her that she go to the United States to help the Italian immigrants who were flooding to that nation in that era, mostly in great poverty. "Not to the East, but to the West," was his advice.
Mother Cabrini left for the United States, arriving in New York City on March 31, 1889, along with six other sisters. Archbishop Michael Corrigan found them housing at the convent of the Sisters of Charity, where they were allowed to stay as long as necessary. She obtained the permission of the archbishop to found an orphanage, which was located in West Park.
Mother Cabrini organized catechism and education classes for the Italian immigrants and provided for the needs of the many orphans. She established schools and orphanages despite tremendous odds. In 1899 she began a further apostolic mission in Chicago. She became a naturalized citizen of the United States in 1909.
Mother Cabrini died at age 67 in Columbus Hospital in Chicago on December 22, 1917, while preparing Christmas candy for the local children. By that time, she had founded a total of 67 missionary institutions to serve the sick and poor.
Mother Cabrini was beatified in 1938 by Pope Pius XI, and canonized in 1946 by Pope Pius XII, an occasion which saw over 120,000 people filled Soldier Field in Chicago for a Mass of Thanksgiving.
St. Frances Xavier Cabrini is the patron saint of immigrants, and of the religious institute, and is also, informally, recognized an effective intercessor for finding a parking space.
Have a very happy and holy feast day! St. Frances Xavier Cabrini, pray for us!