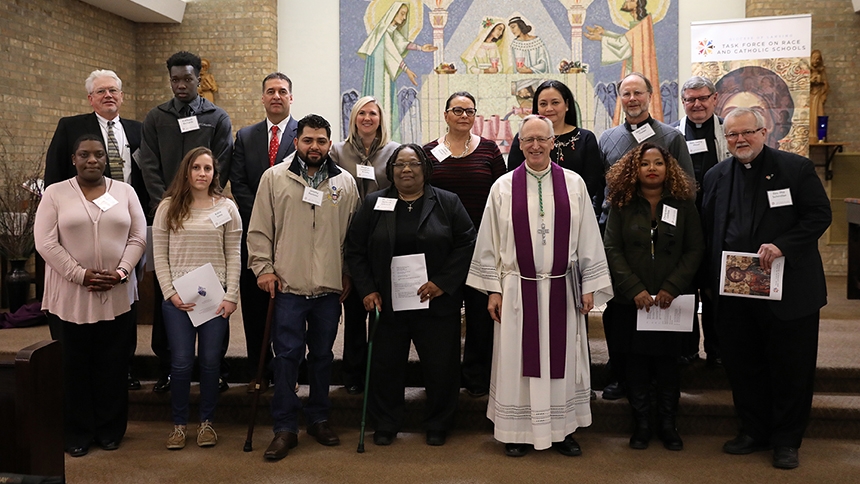 Bishop Earl Boyea announced the formation of a Diocesan Task Force on Race and Catholic Schools on March 13 in a prayer service and commissioning at St Thomas Aquinas Church, East Lansing.
The task force, a racially and ethnically diverse group comprising appointees from around the diocese that will listen to Diocese of Lansing Catholic school, parish and community constituencies had their first meeting after the commissioning prayer service.  Their role specifically is to listen to people of color; recommend ideas to better understand and serve the needs of racial and ethnic minorities in our Catholic schools; and  make recommendations to the bishop about how to best accompany all people in our Catholic school communities toward a closer relationship with God, who desires each one of us to be one with him in heaven.
Dr. Joan Jackson Johnson, director of the Human Relations and Community Services Department for the City of Lansing, and a member of St. Thomas Aquinas Parish, will chair the task force.
In forming the task force, Bishop Boyea pointed out "the need to see the human dignity of each and every person, something that we Catholics proclaim all the time and something that is always a challenge to live out. We need to be intentional about examining our habits, both individual and societal. Sometimes they can hurt and we must be aware of that."
The task force will be charged with holding some listening sessions to hear from a variety of voices from all parts of the diocese and to develop and deliver to Bishop Boyea a set of recommendations in accordance with Catholic social teaching about how Diocese of Lansing Catholic Schools can better listen to and accompany our racial and ethnic minorities. Those recommendations are expected to be sent to the bishop for his consideration by the Fall of 2018.
The members of the task force are:
Chong-Anna Canfora, Lansing Region Rep;
Dr. Alonso Collar, School Parent Rep; 
Deacon Dave Drayton, St. Thomas Aquinas Parish; 
Paulette Grandberry-Russell, Director, MSU Office for Inclusion and Intercultural Initiatives; 
Janie Herrera,  Assistant Principal, Father Gabriel Richard High School, Ann Arbor; 
Meghan Loughlin-Krusky, Principal, St. Thomas Aquinas School, East Lansing; 
Theresa Marshall, Ann Arbor Region Rep;
Angela Maria Ascencio-Mindlin, Flint Region Rep and member, Diocesan Board of Education and Catechesis;
Rev. Jerry Ploof, Parochial Vicar (Associate Pastor), St Thomas Aquinas Church and St John Student Center, East Lansing; 
Dekeea Quinney-Davis, member of St Casimir Parish, Lansing; 
Jeremy Ramirez, member of Immaculate Heart of Mary Parish, Lansing; 
Kabbash Richards, student rep; 
Danielle Robinson, member of St Thomas Aquinas Parish and St John Student Center, East Lansing; 
Rev. Phil Schmitter, Pastor of Christ the King Parish, Flint; 
Katie Sims, student rep; 
Rev. Fred Thelen, Pastor of Cristo Rey Parish, Lansing; 
Michael Yankowski, City of Lansing Chief of Police.