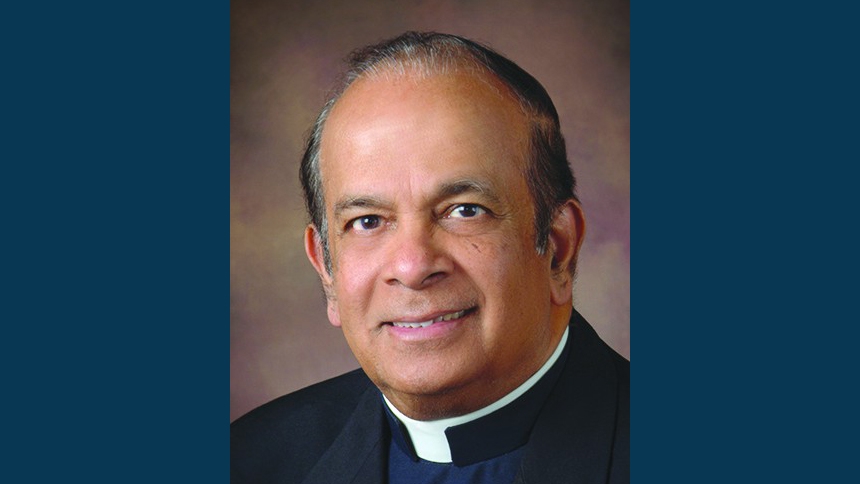 Passed away into the loving arms of Jesus, February 19, 2018 at the age of 83. Father Ben (as he was affectionately called by his parishioners), was born in Jaffna, Sri Lanka, June 11, 1934, the son of P.J. and Jeyapackyam Constantine. He entered the seminary in Colombo, Sri Lanka in 1951 and was ordained a priest at the age of 23. Following his Master's Degree in Civil Law from the University of London, he returned to Orvieto, Italy where he further attended college and served as an associate pastor of St. Andrews Church. He also taught English at St. Ludovico School in Orvieto, Italy. Father Ben returned to Jaffna, Sri Lanka and was appointed to the tribunal. He was encouraged to come to the United States by a Polish Missionary Priest.
In 1981, he served as the associate Pastor of St. Robert Parish in Flushing, 1982, appointed a Judge for the Diocese of Lansing Tribunal, 1983, was appointed administrator of St. Mary Parish in Pinckney and later that year, he was assigned to St. Joseph in Howell. From 1984-1990 he was assigned to St. Mary Star of the Sea in Jackson. In 1990, Fr. Ben accepted the assignment to St. Peter Parish, celebrating his first Mass there on June 29, 1990. By not accepting "no" for an answer to anything, under the direction of Fr. Ben, the Parish was able to build a new church, open St. Peter Rainbow Child Development Center, build the Ed Owen Pavilion, and open the St. Peter Catholic School.
Father Ben never forgot his roots and stayed in touch with his family. It was after the Tsunami of 2004 that destroyed much of his homeland in Sri Lanka that led Fr. Ben to take action. Along with his Parish and surrounding communities and other Parish's, funds were raised to rebuild the main church in Mulitivi. 
He celebrated his 40, 50, and most recently, 60 years of Ordination with his Parish at St. Peter Catholic Church. The outpouring of support shown to him was filled with love and the Holy Spirit. His eyes would light up when he prayed and talked with you, and he had a special place in his heart for the children of the Parish. He would glow in the presence of the children. He has shared his love and faith with many families and that love will be a beacon to Heaven.
Fr. Ben is survived by his brother, Lenny Constantine; his niece, who he thought of as a sister, Annette Jeyaavendra; numerous nieces and nephews. He was preceded in death by his parents and 8 siblings.
In Father Ben's words he believed, "We have seen and continue to see growth in our parish. This comes to us in the form of new families, young families. With these new families come the children who are the promise of the future. But the promise of the future bears in it the responsibility of the present to make preparations. It is the present adult generation with the guidance of the Holy Spirit that must continually strive to grow, to explore possibilities, to stretch boundaries and to dare to dream. Dreams are merely future realities." May the Angels welcome you to Paradise, faithful servant of the Lord.
A Mass of Christian Burial will take place 10:30 A.M., Saturday, February 24, 2018 at St. Peter Catholic Church, 515 E. Knight St. Eaton Rapids with burial following in Rosehill Cemetery.  Visitation will take place at the church on Friday from 11:00 A.M. to 8:00 P.M. and Saturday one hour prior to the Mass.  A Rosary will be prayed at 7:00 P.M. followed by a Vigil Service. In lieu of flowers, memorial contributions may be made to Eaton Rapids St. Vincent DePaul, St. Jude's Children's Research Hospital or Mass Intentions.  Arrangements were entrusted to the Mills Funeral Home, Shelly-Odell Chapel.