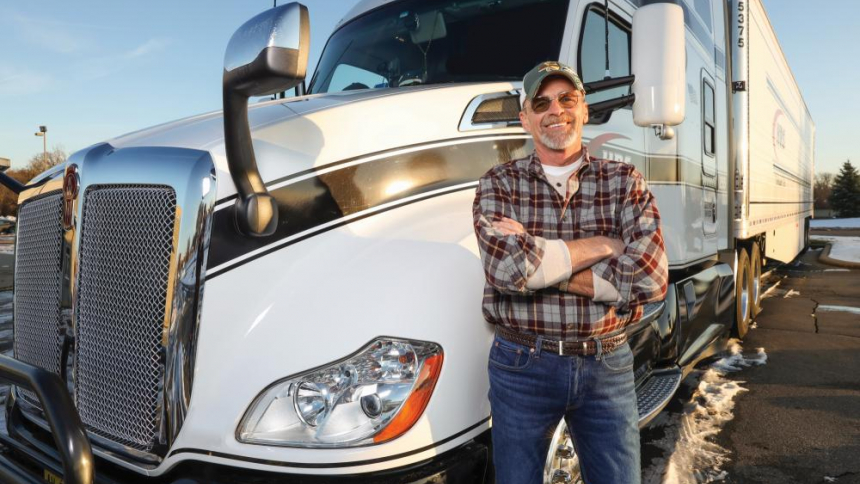 Truck-driver Patrick Barrett's greatest journey of recent times came early last year when he rediscovered Jesus Christ and his Holy Church via the Diocese of Lansing's Men's Conference.
"There's so much to take away from the men's conference, but I would say the camaraderie that you develop with other men has the most value," said Patrick to the Diocese of Lansing magazine, FAITH, January 2020, "Knowing we're all great sinners just looking for redemption and finding the truth in Jesus."
Not surprisingly, Patrick is now enthusiastic to tell other men about this year's Diocesan Men's Conference, entitled "Accept the Challenge", which will take place Saturday, February 22, 2020, at the Oosterbaan Field House, Ann Arbor.
"Throughout the day, you're listening to guest speakers," says Patrick, "and then they have a promotional area where vendors are – there's all different types of organizations that have the pamphlets, books and the materials that you need to further your education or your development in a relationship with Christ."
A grandfather of nine and native of Jackson, Patrick was raised Catholic but lapsed from the practice of his faith in adult life.
"I've made some good choices in my life, but, by far, many, bad choices. My life spun out of control with material things, sports, work and recreational drugs," he recalls.
"It wasn't until I hit bottom and lost everything that I found God. Through the many prayers of my mother, I went back to church. Shortly after, the bulletin had an article on 'The Man Event,' [the Diocese of Lansing Men's Conference 2019] and hesitantly, I went."
Since then, Patrick has continued to fall back in love with Jesus Christ and his Holy Church through the sacraments and prayer.
The line-up of inspirational speakers at this year's conference includes Bart Schuchts of the John Paul II Healing Center; Father Larry Richards of The Reason for our Hope Foundation; Father Mathias Thelen of Encounter Ministries; Dan DeMatte of Damascus Catholic Mission Campus. Holy Mass will be offered by Bishop Earl Boyea of Lansing as the main celebrant while the Sacrament of Confession will also be readily available.
To find out more about this year's Men's Conference go to; https://www.acceptthechallenge.org/