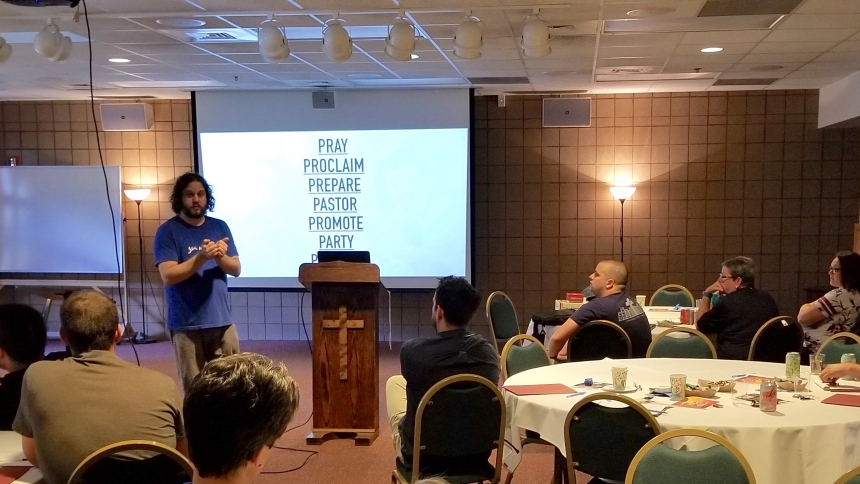 Parish youth ministry leaders from across the Diocese of Lansing took time out this month to pause, pray and prepare themselves for another year of helping our young people to grow in discipleship with Jesus Christ and his Holy Church.
"Youth ministers are used to staying up late, getting up early, chaperoning all night, sleeping in buses and on gym floors and eating bad food," said Brian Flynn, Director of Middle School/High School Ministry for the Diocese of Lansing, 29 August 2019.
"For this retreat we really wanted to pamper those who serve in youth ministry around the Diocese of Lansing, both spiritually and temporally."
The two-day retreat, 21-22 August, at the St Francis Retreat Center in DeWitt. Entitled "Overflowing", the retreat was based on The Gospel of Saint Luke 6:38. Over 40 youth ministry leaders attended along with their spouses and youth ministry volunteers.
"We also invited those spouses who are married to a youth minister to attend, recognizing that ministry impacts the whole family and that indeed, many spouses participate in and contribute to successful ministry as well," said Brian.
The retreat included Holy Mass, Eucharistic Adoration and the Sacrament of Reconciliation. There were also presentations by Tony Vasinda and Michael Marchand of ProjectYM, an organization "on the forefront of all things youth ministry" explained Brian, as well as Michelle Kazanjian of UNBOUND, Michigan; and Sheri Wohlfert, Catholic school teacher, blogger, presenter and hospitality coordinator for Saint Paul Evangelization Institute.
"We wanted them to simply come and receive the gifts the Lord wanted to give them since they are usually in the role of "giver" and to be able to connect with and pray with others in the field," added Brian.
"In addition to creating a relaxed schedule and environment and pampering with good food and fellowship, we provided opportunities for attendees to be spiritually renewed and rejuvenated as well and many left the retreat looking forward to the next time we all gather!"