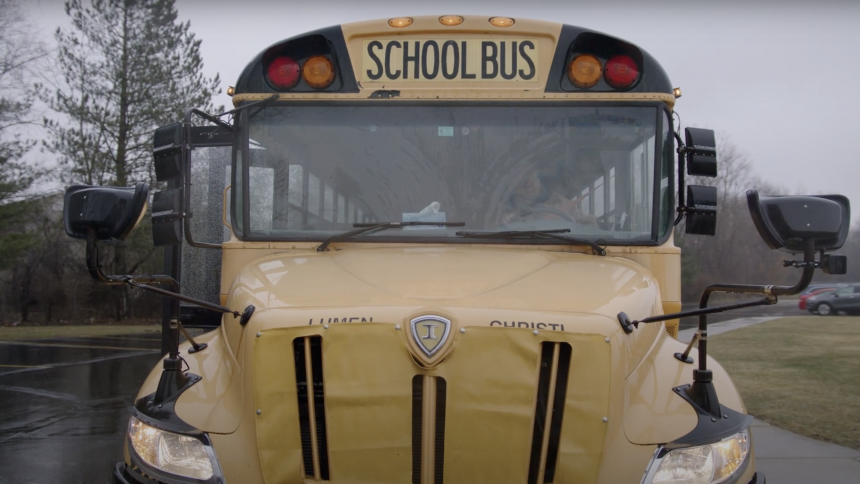 You want to send your children to a Catholic school but your local Catholic school isn't very, well, local. What to do? Well, Jackson Catholic Schools are now providing a shuttle bus service for families who live a distance away from Jackson such as the Berry family from Chelsea.
"I was ready to drive them back and forth every day even though it's over 30 minutes from our house but we wanted to do it because we love Jackson Catholic Schools that much," explains mom, Jennifer Berry.
"And then a couple of weeks before school started they reached out to us and said, 'hey, we have a bus and we're going to transport your kids to and from school'. It was an unexpected blessing."
The Berry family have three children at Jackson Catholic Schools. Cecilia is a sophomore at Lumen Christi Catholic High School with her brother, Joe, in the Seventh Grade. Meanwhile, young Lucas is in the Fourth Grader at Queen of the Miraculous Medal School.
The Diocese of Lansing contains 35 Catholic schools spread across 10 counties including four regional high schools. In total, diocesan schools educate over 8,000 students. Last year saw those schools record their largest year-on-year increase in enrollment for 20 years witnessing, as they did, an overall 6% rise in student numbers.
The Jackson shuttle bus is just one example of those schools trying to make themselves ever more accessible to those who desire a Catholic education for their children. To find out more, go to: https://dolcatholicschools.org/