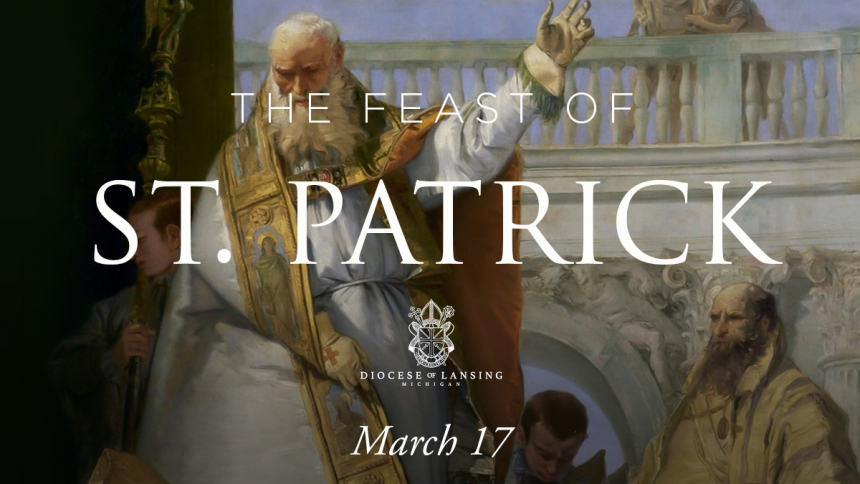 Today is the Feast of Saint Patrick, the great 5th century missionary who brought the Irish nation to Jesus Christ and His Holy Church. Happy feast day!
To mark the occasion, Father Gabriel Richard School in Ann Arbor invited Father James Conlon to offer Holy Mass in the Irish language. You can watch a short film of the occasion below. Father Conlon is the Pastor of Saint Francis of Assisi in Ann Arbor and a native of County Sligo in Ireland.
"I've always loved the Irish language, I've always felt a real connection with it, as a child growing up we were a bilingual family and to be able to share it today is a great opportunity for me to share something that's very precious and something that means a lot to me," said Father Conlon.
"It's also opportunity also for us, for the community, because this is our regional Catholic high school, to reflect on that on that identity and the gift that our forebears have left us and the sacred responsibility that goes with that gift."
"Now it is our turn to step up to the plate, now it is our turn to be those faithful intentional disciples of Christ and to live the Gospel message – that's really the purpose of a Catholic school."
Father Gabriel Richard High School dates its foundation back to 1868 and Father Patrick O'Kelly, a native of County Kilkenny in Ireland, who had been sent to the area to minister to the Irish Catholics who were settling in southwestern Michigan. Hence, the school colors are green and white while the school crest sports a shamrock and the nickname of the school is "the Irish".
Father O'Kelly was also the founder of Old Saint Patrick parish in Ann Arbor. It is one of two parishes in the Diocese of Lansing under the heavenly patronage of Saint Patrick, the other being Saint Patrick in Brighton. Across the diocese, however, there are many parishes and schools that owe their foundation to the Irish diaspora in Michigan. Thus, we say today: A Naomh Padraig, guigh orainn! Saint Patrick, pray for us!