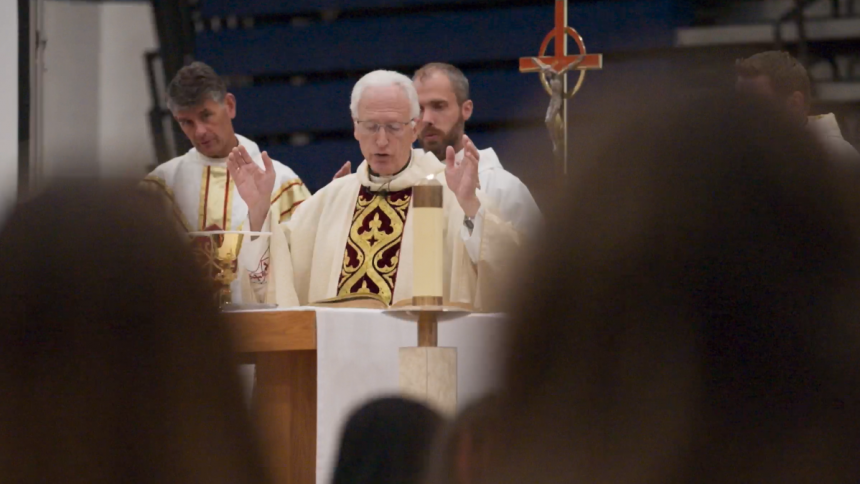 Students across the Diocese of Lansing begin their return to school this week. Welcome back!
In preparation for the new academic year, Bishop Earl Boyea offered Holy Mass for over 500 Diocese of Lansing teachers upon the Solemnity of the Assumption, August 15, where he proposed the Blessed Virgin Mary as a model and refuge for all Catholic educators.
"Mary helps us to be the same means of grace to the young people we serve. We too, are always to care for them. We too, are always to pray with and for them.. We too, need to demonstrate how to be a follower of Jesus. And we too should live a life without sin or, at least, with deep repentance for our sins," said Bishop Boyea.
"These are indeed, my sisters and brothers, lofty goals, not to be met by our own efforts alone but by the grace of God working within us. Let us ask Mary today to continue to be our companion and our mother as we carry out the mission that has been given to us. God bless you all."
Holy Mass was the apex of a spiritual formation day for teachers which was hosted at Powers Catholic High School in Flint and attended by teachers from across the Diocese of Lansing.
The day of recollection was led by Father John Riccardo, a priest of the Archdiocese of Detroit and founder of Acts XXIX, a non-profit missionary apostolate.
Please pray for all our teachers as they return to the classroom for another academic year. Our Lady, Seat of Wisdom, pray for them!
* Do you feel that God is calling you to teach within the Diocese of Lansing? Text DOLTeach to 84576 to find out about current vacancies.