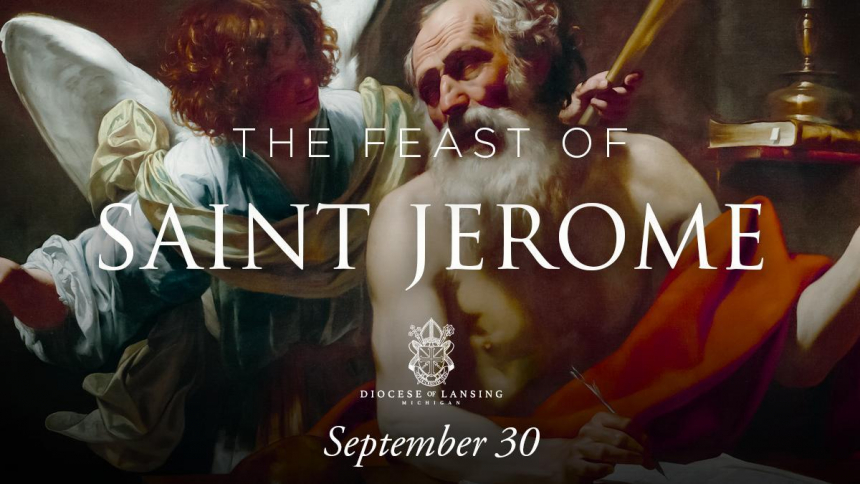 Today is the Feast of Saint Jerome (345-420). Happy Feast Day! Jerome is a hero to Cathryn Torgerson, Director of Curriculum at the Catholic Biblical School of Michigan. Why? Here's Cathryn's explanation:
"On September 30 we celebrate St. Jerome, a convert who translated the Bible into the common language of his day. In the late 300's, at the request of Pope Damascus I, Jerome spent 20 years translating the Bible into Latin so that it could be understood by more people. Following this achievement, he wrote commentaries on the Bible to help unfold its riches."
"St. Jerome's legacy continues today. The Bible can be read in hundreds of languages, and even in English there are many translations available. Finding a translation you enjoy reading is a great step to inviting God into your life through His Word."
"To help explain the context and meaning of God's Word, its foundation for our faith, and its impact on our lives, modern study Bibles provide notes, maps, and articles. You can find these in stock at Catholic bookstores in our diocese."
"For more in-depth explorations of one book or biblical theme, many DVDs, books, and streaming studies are available. To discover how to read every book through a Catholic lens, the Catholic Biblical School of Michigan offers classes with live instructors. It's not too late to join an in-person or online class! Click here for more information: https://www.cbsmich.org/join "
Saint Jerome, pray for us!