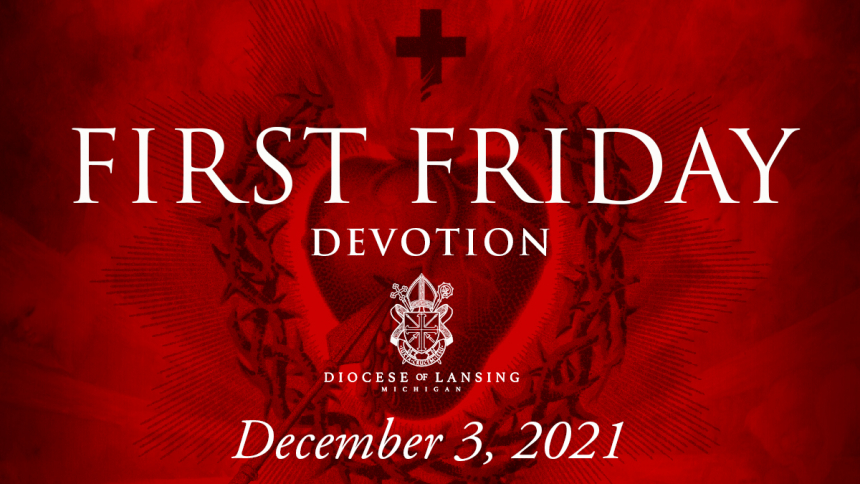 On December 27, 1673, a nun of the Order of the Visitation of Holy Mary, Saint Margaret Mary Alacoque, claimed to have received apparitions of Jesus Christ in the Burgundian French village of Paray-le-Monial.
The visions continued, revealing to the young nun Christ's Sacred Heart as a tangible symbol of his burning love for each and every person. They also revealed a divine promise of particular graces to those who keep holy the first Friday of each month for nine consecutive months by receiving Holy Communion upon that day; praying a Holy Hour of Eucharistic Adoration the evening prior; and celebrating the Feast of the Sacred Heart which falls each year upon the Friday after the second Sunday after Pentecost.
Why should we love this devotion to the Sacred Heart of Jesus upon the first Friday of the month? Here's a beautiful reflection and explanation by Father Todd Koenigsknecht who is Pastor of Sacred Heart parish in Hudson. He writes:
"When Jesus revealed Himself and His Sacred Heart to Saint Margaret Mary Alacoque, perhaps His most famous encouragement was this: 'Behold the Heart which has so loved men that it has spared nothing, even to exhausting and consuming Itself, in order to testify Its love'."
"At my beautiful church in Hudson we have a stained-glass window of the Sacred Heart of Jesus in the center of the sanctuary. Facing east, each morning the rising sun pours light through that Heart wreathed in fire burning with love for us."
"Many times, when I look out over those at Mass, they are bathed in warm red light from the Sacred Heart. That light is present at Sunday Masses; at Baptisms; at Funerals; at Weddings; during the silent moments when someone slides into the Church to spend a few minutes in prayer; and it shines on those gathering for Reconciliation. It is an image of what the Christian life is meant to be. Our whole life is bathed in that red glow. If we could hold onto that perspective how our lives would change."
"In this light everything is meant to be and able to be shared with Christ. Joys are magnified when shared with Him and sorrows easier to bear. In times that can be so dark a light shines forth. In this light it is easier to have patience with others and rejoice in the patience others have with us. It is easier to forgive the one who has wronged us when we see that both I and they are bathed in this same light of His Heart. In a world that can be so isolating we realize in a profound way that we are never alone."
"Striving to live in this awareness, Christians have fostered devotion to Jesus' Sacred Heart through a variety of ways. They pray prayers of consecration. They also place a picture of the Sacred Heart in a prominent place in their home; they strive to imitate Jesus' selfless love; or go to Mass on the first Friday of the month; just to name a few. Any or all are worthwhile ways of uniting ourselves more intentionally to Jesus."
"Saint Peter reminds us that we should at all times be ready to give the reason for our hope (1 Peter 3:15). The answer to that question is summed up so powerfully in Jesus' Sacred Heart, a Heart burning with love for me and for all those I will ever encounter. Beholding that Heart and seeing our life bathed in that red light how could we not live with hope?"