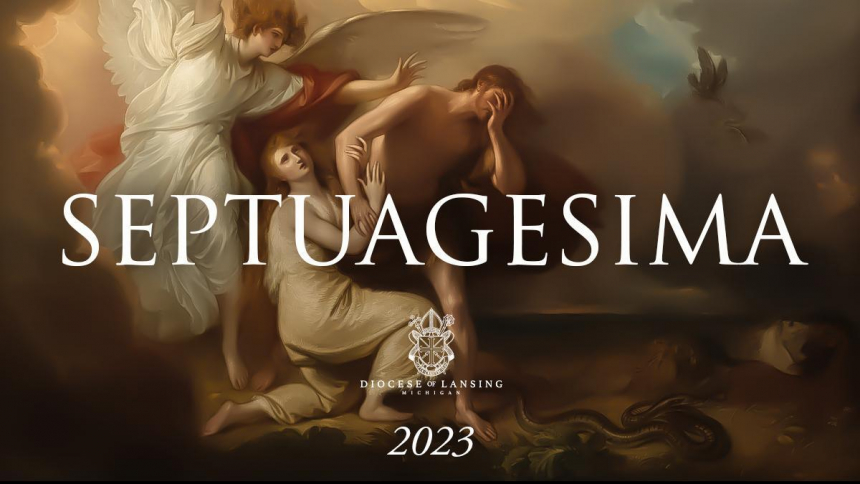 Yesterday was Septuagesima, which is a Latin word for seventieth. In the traditional Catholic calendar, Septuagesima, roughly 70 days before Easter, marks the beginning of pre-Lent, a brief liturgical season that prepares the faithful for Lent.
Following Septuagesima, the next Sundays are Sexagesima, 60 days until Easter; Quinquagesima, 50 days; and then Quadragesima, 40 days. i.e., the First Sunday of Lent. Obviously, there being only seven days in the week, these days of counting down until Easter are quite approximate. Will Bloomfield, General Counsel of the Diocese of Lansing, now explains more about Septuagesima. Will writes:
Even for those of us who don't attend a traditional liturgy, this ancient season of Septuagesima and its approximate countdown to Easter provides great value as it also serves as a countdown until Lent. Ash Wednesday, which is the first day of Lent, is just two and a half weeks from Septuagesima. So noting the season of Septuagesima, or pre-Lent, helps the faithful to prepare for the penitential season of Lent, rather than having Ash Wednesday sneak up on us unawares. So how will we embrace Lent this year? What fasts, mortifications, and pious practices will we embrace?
In 1966, the U.S. Bishops issued a Pastoral Statement on Penance and Abstinence. This document is remembered for loosening the obligations of Catholic penitential practices, including removing the obligation for Catholics to fast for all forty days of Lent. Nevertheless, it was the Bishops' "hope" that, freed from specific obligations, Catholics would "intensify" their observance of Lent. The Bishops even included specific recommendations, stating: "we strongly recommend participation in daily Mass and a self-imposed observance of fasting." (Emphasis added.) The Bishops also recommended generosity to the poor, mortification, scriptural studies, and traditional Lenten devotions such as sermons, Stations of the Cross, and the rosary.
Now that we are just two weeks from Ash Wednesday, let us prayerfully consider how we will intensify our observance of Lent this year. The above recommendations of the Bishops are all worth considering, particularly those strongly recommended practices of daily Mass and fasting. For those embracing fasting, you might benefit from the recent book Eat, Fast, Feast by Jay Richards. The book includes a practical plan for fasting throughout the Lenten season and also offers dietary suggestions that can make fasting less challenging. Another resource to consider is Exodus Lent, which comes from the group that created the Exodus 90 program (a program I and other men at the diocesan chancery benefited from). Like Exodus 90, Exodus Lent is done with a fraternity of men, so now is the time to gather such a fraternity in your parish. And whether you're a man, woman, or child, you could likely benefit from embracing (some or all of) the ascetical practices of Exodus Lent, particularly those practices that involve abstaining from technology. And if you do give up some of your technological dependencies, you will likely discover that the less dependent you are on these comforts, the more dependent you become on God and the more present you become to those around you.
So as the Bishops recommended, let's intensify our Lenten observances, doing penance for our sins and preparing ourselves for Easter.
William R. Bloomfield
General Counsel
Diocese of Lansing