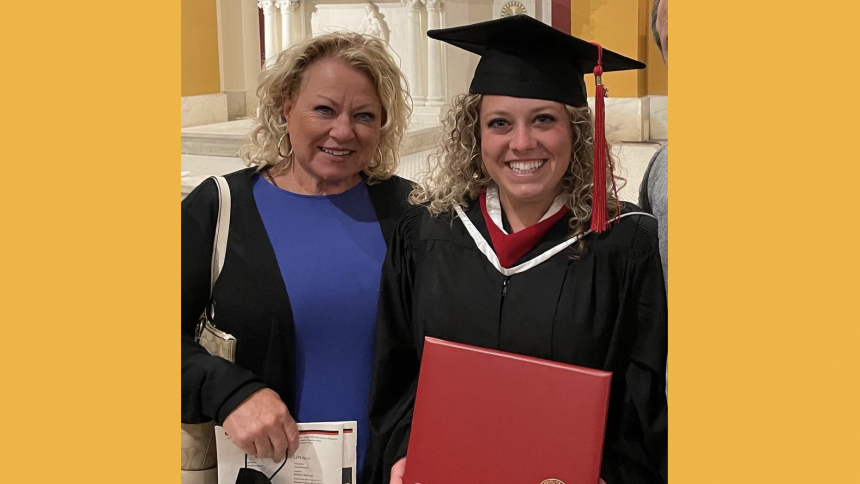 In the wake of Mother's Day on Sunday, Bishop Boyea has been encouraging each of us to pray for our mom and to write a letter of thanksgiving to her for giving us life, love and, if we have been so blessed, faith in Jesus Christ and his Holy Church.
One person who has taken up the challenge is Hannah Turchi, Director of Religious Education at Saint Robert Bellarmine Parish in Flushing, who has penned this very beautiful letter to her mom, Pam, pictured upon her daughter's graduation day. Hannah writes:
Dear Mom,
I am so very grateful for you! There are not even enough words to describe how much you mean to me however there are a few things in particular that stand out as reasons that I am so grateful you are my mother!
We have a close family which is a comfort and a blessing! I know that is because of you and dad. I do not think I ever realized it when we were growing up. I took it for granted. But as I got older, I could see how much you and dad really love each other. I know marriage is not easy and that it takes a lot of work. Your marriage is the biggest blessing to our family and to the world. It is because of you and dad loving each other and loving God that our family is able to go out in the world in confidence and love. As parents, you took us to Mass and adoration every week. Both of you taught us how to pray, how to love God, and each other. You're a beautiful witness of sacramental marriage for me and your sons!
Even now, though we are adults, you continue to build up our family and to help us stay close. Sunday breakfasts are the best! To have our busy family get together once a week for a meal, conversation, and laughter is wonderful. We always feel so welcome as we walk in the door to fond greetings, coffee, and delicious food. And camping! You have not always loved camping but you know how much we do and so you come with us. Those camping trips have been some of the very best moments of my life. I know it must not have felt like a vacation all the time for you. I am so grateful for the sacrifices you made so that we could go camping every summer and have the time of our lives!
Throughout my life, you have always been an encouraging and kind presence. You help me stay grounded in reality. Through the many ups and downs of life, you have always supported me. Knowing that you pray for me brings such peace and confidence to me. You are honest so when you speak wisdom, I know that I can trust it. Sometimes I have great doubts which I comfortably share with you (probably overshare at times). You do not give up on me and you believe (even when I struggle to do so) that God has a wonderful plan.
One of the greatest gifts you have given me has been introducing me to The Catechesis of the Good Shepherd – not as a child but as an adult. I took training because of you moving the coffee table from our living room into that Level One atrium. I was introduced to Jesus is a new way which changed my whole life! I went back to school and received my graduate degree in Pastoral Studies and Catechesis of the Good Shepherd. As a result, I learned so much more about Jesus and His Church. Through that experience, I was connected with my spiritual director and working with her helped me to grow to be a much healthier person – physically, mentally, and spiritually. I have met the most wonderful people through this work and find the greatest joy in working with these little children. I have been able to collaborate with you in this work. To not only be your daughter but also your partner and collaborator has helped me to see you in a different way – you are a beautifully gifted catechist. You have an incredible gift for detail. You prepare and work so hard. You have the ability to read the room and to know who needs a little care and guidance. When you give a presentation to children or adults, the room is full of God's presence. You evangelize in a humble way and let the Holy Spirit work through you. It is a blessing to be able to work with you!
Thank you so much for everything you do! Thank you for being an incredible mom! Thank you for passing on the faith to me and to my brothers!
May God Bless you abundantly!
Love,
Hannah
 
* To read Bishop Boyea's Disciples Together on the Way challenge, click here.