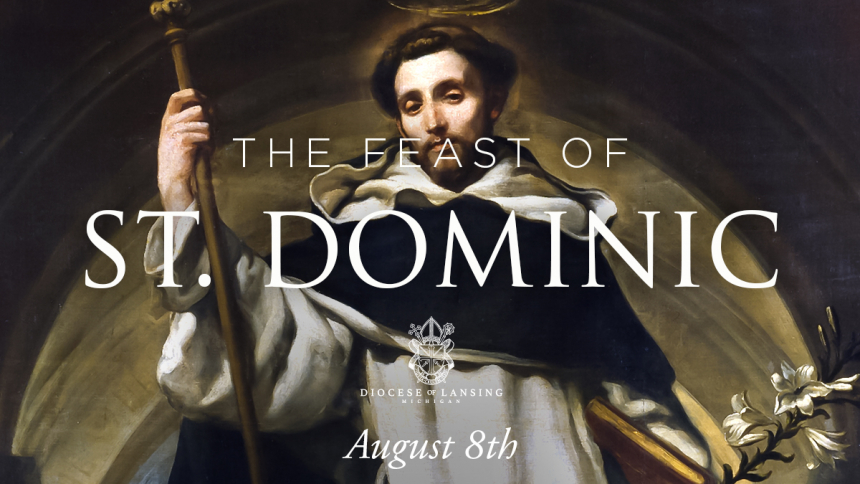 Today, August 8, is the Feast of Saint Dominic (1170 – 1221), founder of the Order of Preachers or, as they are also known, the Dominicans. Happy feast day!
Father David Fons is the Pastor of Saint Mary in Williamston and also a member of the recently established Michigan Chapter of the Priestly Order of Saint Dominic which enables diocesan priests to participate in the life and charism of the Dominican Order.
"As a priest, Saint Dominic is, for me, a great model of joyful evangelization and constant prayer," said Father Fons.
"He united both of those things in his order: the joy of the Gospel, which causes us to want to tell others, and that means we have to be very dedicated to the study and love of the Scriptures, of the Tradition, of theology."
"They say that Dominic was joyful during the day and would stay up praying through the night – that's is something for us all to aspire to and to strive for: that combination of the way the Gospel changes you and, then, the way in which we want to know more and pass that on."
A native of Spain, Dominic Guzman founded the Order of Preachers about the year 1215.
His new order was endowed with two characteristics; instead of manual labor, as practiced by the Cistercian monks, Dominic required his friars to work with their minds by preaching and teaching.
The first Dominicans were instrumental in rolling back the influence of the neo-Manichean heresy of Albigensianism.
Saint Dominic died at Bologna on August 6, 1221. His friend, Gregory IX, canonized him three years later. Saint Dominic, pray for us!