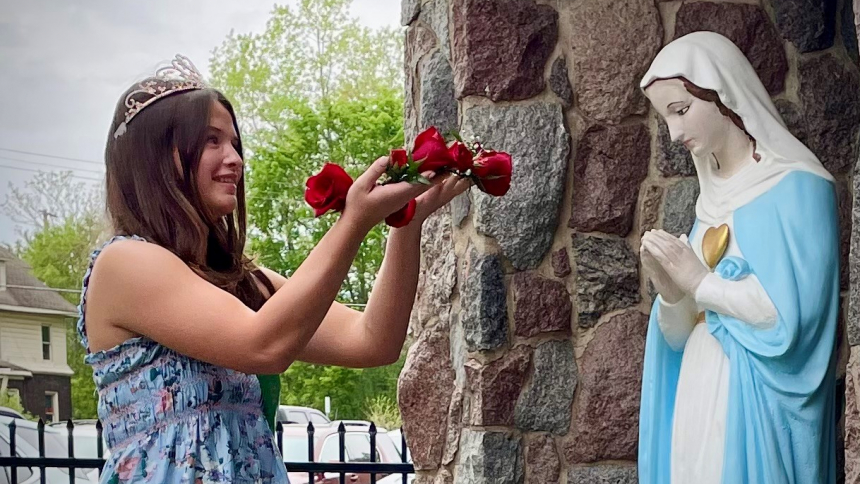 Catholic Charities of Shiawassee and Genesee Counties crowned the Blessed Virgin Mary as queen of their apostolate on Friday, May 12, in Flint. Ave Maria!
"May is the month that we give special honor to our earthly mothers, and rightly so, for the love and nurturing they give us – it is all the more important, therefore, that we should honor Jesus' Mother, the Mother of God," explains the charity's Chief Executive, Katie Baxter, May 16.
"Jesus gave Mary to John and, indeed, to all of us at the Cross because He knew that we needed her love, protection and guidance and, though, our earthly mothers are wonderful, Mary is the perfect model of motherly love and femininity. She models humility, fortitude, obedience, charity and love. She always points us to her Son saying, 'Do as He tells you!'"
"Mary is the Queen of Peace and reminds us that only through seeking Jesus, will we achieve true joy and peace. Mary, Mother of God, pray for us!"
The crowning took place in Flint's Mary Garden which was first established as a place of Marian devotion in 1955 when the site was Saint Michael Catholic High School.
An opening prayer was led by Father Bob McGraw, senior priest of the Diocese of Lansing, before proceedings were introduced by Deacon Ken Priess of Holy Redeemer in Burton who also read the Holy Gospel and blessed the Crown of Roses.
Katie Baxter gave those present an explanation of the Flint statue which depicts Our Lady of Beauraing, an approved apparition of the Blessed Virgin Mary to children in Belgium in 1932. The statue was recently restored by Sharron and Winston Dolphin by way of a donation to Catholic Charities.
Our Lady was crowned by Miss Gracie Spezia who is Miss Hibernian, a title bestowed upon her by the Flint Chapter of the Ancient Order of Hibernians who are financial supporters of Catholic Charities.
The Holy Rosary was prayed and Marian anthems were sung before those present adjourned for celebratory refreshments supplied by the parishioners of Saint Pius X in Flint and Saint Robert Bellarmine in Flushing.