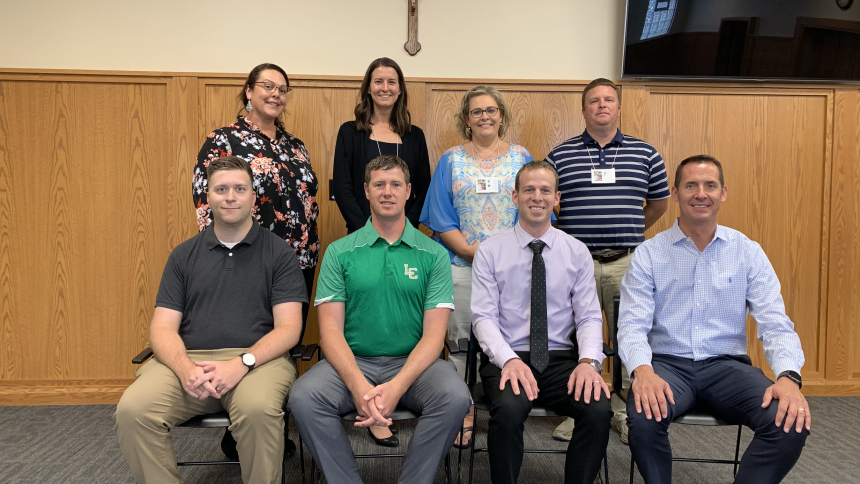 Meet just some of the new principals who are taking over the helm at schools across the Diocese of Lansing in the coming weeks. They gathered in Lansing on July 26 to participate in a day of prayer, study and discussion facilitated by the diocesan Department of Schools' New Principal Institute.
"We're excited to bring on board our new principals and we're so thankful that they heard the call to be leaders in our diocese for our schools," said Tom Maloney, Superintendent of Schools for the Diocese of Lansing.
"Today we are filling their buckets up, as it were, to give our new principals the spiritual, intellectual, emotional support information that they will need to begin this new school year."
Tom Maloney, himself a former high school principal, told those present that the key to being a great Catholic principal to be "an on-fire disciple of Jesus Christ who is also hungry, humble and smart" in their approach to school leadership.
Among those participating in the one-day gathering was Mike Olds, the new Principal at Immaculate Heart of Mary School in Lansing. Mike has taught for the past 11 years at Lansing Catholic High School.
"I'm really excited about this opportunity," said Mike, "I think there's a lot of potential at Immaculate Heart of Mary, not least because the school already has a lot of great traditions and great foundations – including a perpetual adoration chapel. I can't wait to get started."
The Diocese of Lansing contains 35 Catholic schools spread across 10 counties including four regional high schools. In total, diocesan schools educate over 8,000 students.
Last year those schools recorded their largest year-on-year increase in enrollment for 20 years with diocesan schools witnessing an overall 6% rise in student numbers.
The new principals seemed united in the belief that it is the goodness, truth and beauty found in Jesus Christ and His Holy Church that is attracting more and more families to Catholic schools.
"God is in everything we do, in every subject and in every activity – that's what makes us different," said Sarah Bushey, the new Principal at Saint Robert Bellarmine in Flushing.
"Yes, we want our students to go to college and be good contributing citizens in this world but, first and foremost, our whole mission is to get our kids to heaven. That's our goal."
Present at the Diocese of Lansing's New Principal Institute were:
Michael Sauter, Saint Thomas the Apostle, Ann Arbor;
Ben Learned, Lumen Christi, Jackson;
Sarah Bushey, Saint Robert Bellarmine, Flushing;
Nathan Sweet, Saint Michael, Grand Ledge;
Mike Olds, Immaculate Heart of Mary, Lansing;
Erin Gutierrez-Harbor, Saint Mary, Charlotte;
Erin Nobach, Saint Thomas, East Lansing.
Please pray for all our new principals. Our Lady, Seat of Wisdom, pray for them.