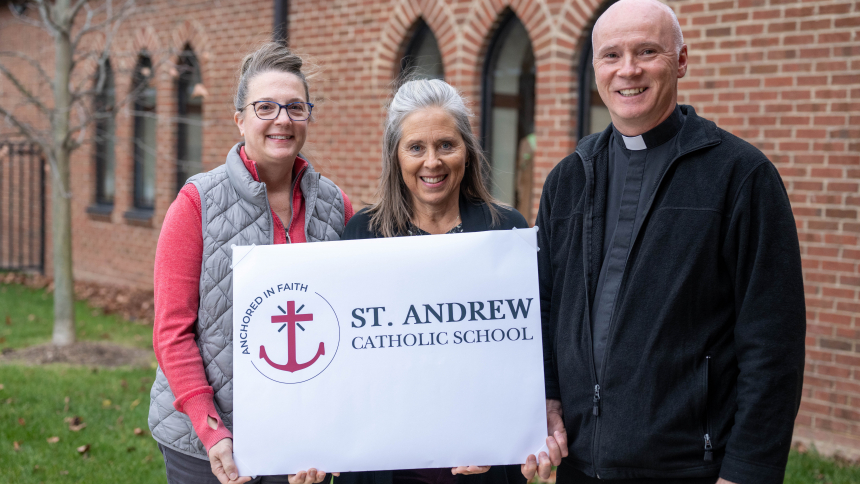 Meet some of the team behind the first new parish school in the Diocese of Lansing for 20 years: Saint Andrew Catholic School in Saline. Opening in the Fall 2023. Accepting new students now!
"We want from day one until the end of time, or the end of Saline, for this parish to see this as our mission" says Father John Linden, Pastor of St. Andrew, November 16, "We really want to see it as mission to the next generation of disciples."
Father Linden is pictured with Janet Cook, Director of Faith Formation and Director of Preschool (left) and Michelle Sontag, Interim School Principal/Director (middle, holding sign).
Saint Andrew Catholic School plans to open with pre-kindergarten to sixth grade classrooms. The school is then planning to add preschool, seventh and eighth grade classrooms over the next few years.
The parish actually built an addition on its property in 2011 with the hope that one day it would become a school, explains Father Linden, who was assigned to the parish in 2019. Until now, however, the classrooms have been used primarily for religious education, youth group meetings and other parish activities.
When the parish began doing feasibility studies on creating the new school more than 85 percent of parishioners surveyed were found to be in favor.
"That's huge that they, right from the get-go, were supporting this," said Michelle Sontag, "They're all for it."
At present, 23 students are already enrolled for the Fall of 2023. Mrs Sontag says her hope is to enroll between 60 and 80 students by the start of the school year.
The classrooms all have arched windows that overlook wooded fields, beyond which lie new-construction houses. The area around the parish, and Saline in general, is fast-growing, says Father Linden, "so there are going to be a lot more children."
"It doesn't matter what direction you come from, there are new $400 to $450,000 houses going up all over the place," Father Linden says, "The pan is hot; the possibility is here."
The new school in Washtenaw County will serve an area of the Diocese of Lansing that does not currently have many options for Catholic education.
As part of the Diocese of Lansing's Realign Resources for Mission vision of parish working together in local deaneries, each grouping of parishes is to have at least one Catholic school, Father Linden says.
And until now, however, the Saint Andrew's grouping, which also includes Saint Mary in Manchester and Immaculate Conception in Milan, does not have a Catholic school.
"There's no one servicing southwest Washtenaw County, the southern counties, even as far as Britton, Tecumseh, and then Lenawee if you have parents that are willing to drive," says Janet Cook.
Father Linden added that in Adrian, which is also part of the Diocese of Lansing, "there are kids going to Toledo Catholic schools in Ohio."
Prior to the opening of Saint Andrew, the most recent opening of a parish school in the Diocese of Lansing was in 2002 when Holy Spirit School opened in Brighton.
Saint Andrew in Saline still has needs for the school, including interior construction and building a playground. Mrs Sontag estimates costs for that being between $350,000 and $400,000.
The school's mascot will be the Anchors, an homage to Saint Andrew, who was a fisherman, and to the school's motto, "Anchored in Faith."
While the process of opening a new school is arduous, Mrs Sontag says there have been many "Holy Spirit moments" along the way, "just clear signs that this is what God wants."
"We are building this together, and it's been exciting. It's been a faith journey," she says.
* For more information about St. Andrew Catholic School, contact Michelle Sontag at michelles@standrewsaline.org.
* This week is Discover Catholic Schools Week, and enrollment for next year is open at many of our 35 Catholic schools across the Diocese of Lansing. Interested to learn more about Catholic education? Visit www.dolcatholicschools.org.