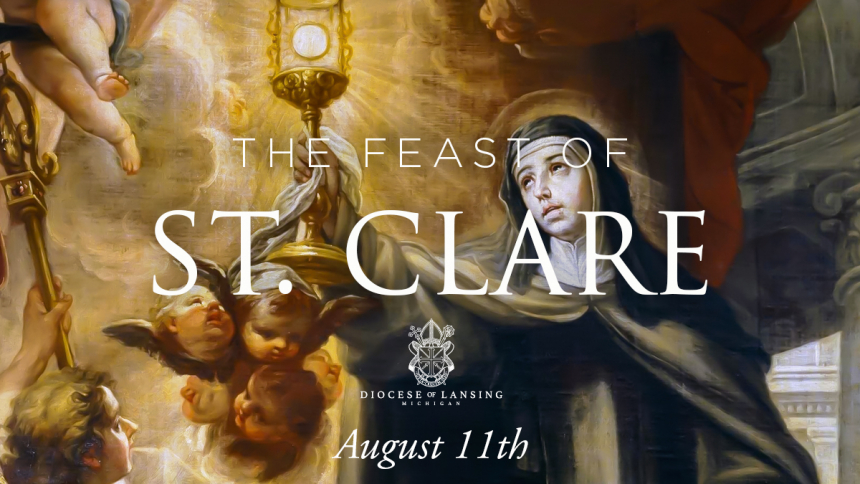 Today is the Feast of Saint Clare of Assisi (1194 – 1253), foundress of the Poor Clares and patroness of television. During an illness when she could not attend Holy Mass, the Lord allowed Saint Clare to see Mass miraculously "broadcast" on the wall of her room.
Ever since Christmas Eve in 1984, Saint Thomas Aquinas Parish in East Lansing has produced the Diocese of Lansing Outreach Mass. It provides a weekly televised Mass for those unable to attend in person for whatever reason, often age or infirmity. At the helm for those past 38 years has been television producer, Lisa Whiting Dobson.
The Outreach Mass is filmed each Saturday at the 4:30pm Mass so that it can air on Sunday Morning. Each Sunday, the Mass airs at 6:00 AM and 10:00 AM on WLAJ Lansing TV53 (ABC), and at 10:00 AM on WBSF-TV Flint Channel 46 (CW Network). The Outreach Mass is also heard each Sunday on Good Shepherd Catholic Radio Jackson on 1510-AM and 93.3-FM, at 12:00 PM.
Please pray for Lisa Whiting Dobson and all those involved in the production of the Diocese of Lansing Outreach Mass. Thank you. Saint Clare of Assisi, pray for them!
• To find out more including how to donate to the Outreach Mass, go to: https://elcatholics.org/outreachmass
* To watch the Outreach Mass on YouTube go to: https://www.youtube.com/c/OutreachMass