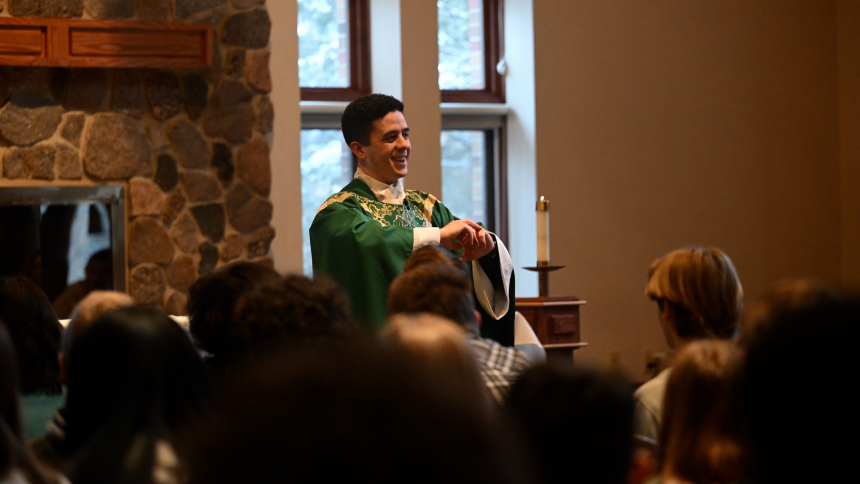 Since its inception four years ago, the Diocese of Lansing's Outpouring Confirmation Retreat has helped more than 540 young people encounter the power of the Holy Spirit – and it's only been possible due to your generous giving to the Diocesan Services Appeal. Thank you. God bless you.
"I would say at its core, the retreat is very charismatic," says Jay Jong, co-organizer of the biannual retreat to FAITH Magazine, the official publication of the Diocese of Lansing.
"We are re-presenting the Gospel message, but each step along the way, we are purposely trying to make it applicable and relational. Many of the students that come on the retreats are familiar intellectually with this knowledge base of who God is. But what we've tried to do is then make it experiential. We give them something to test, to live out, to try."
Each Outpouring Retreat weekend includes Holy Mass; confessions; Eucharistic adoration and presentations geared towards helping young people to recognize their dignity and calling as children of God. The events have become so powerful and well-known that the most recent retreat, held at Saint Francis Retreat Center in DeWitt in January 2023, was a sell-out. Here are some images from that occasion as Father Mark Martin of Saint Gerard parish offers Holy Mass.
The Diocesan Services Appeal or DSA is an annual appeal which is used to sustain the ongoing, day-to-day work of the Church across the Diocese of Lansing. Contributions are put to work, right away, in a multitude of ministries and activities that offer direct assistance to individuals and families and to our parishes, schools, and affiliated Catholic organizations.
The theme of this year's DSA is "Offer to God a sacrifice of thanksgiving". The text, taken from the Book of Psalms, is aimed at reminding each of us of how we are to respond to the many gifts we have been given by God, including that great gift of His Son, truly present in the Holy Eucharist.
* To find out more or donate to this year's Diocesan Services Appeal go to: https://www.dioceseoflansing.org/DSA