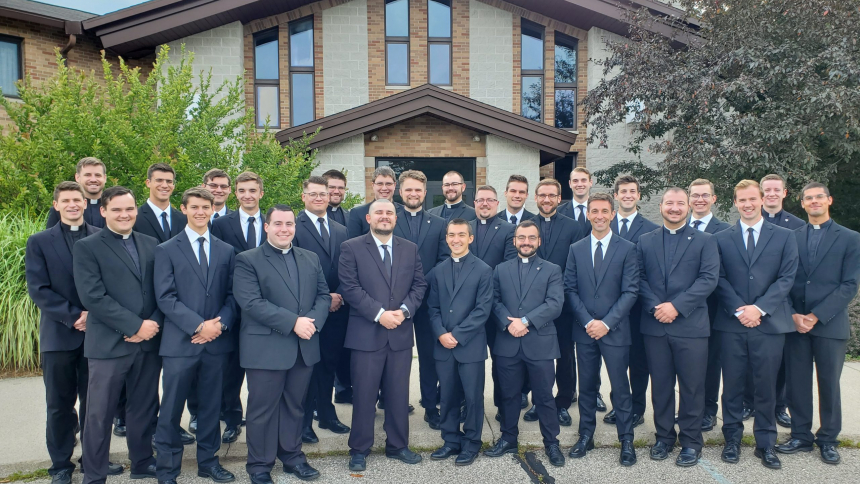 Meet the Diocese of Lansing seminarians, above, who are helped by your generous giving to the Diocesan Service Appeal. Thank you. God bless you.
"The generosity of people is humbling," says seminarian, Deacon Seamus Kettner, in the latest edition of FAITH Magazine, the official publication of the Diocese of Lansing.
"The gift of discernment — freely discerning that God is calling me to be a priest — and being supported by other members of the Church through education and housing, well, their generosity is so important. I thank them from the bottom of my heart."
Seamus is now a fourth-year seminarian at Sacred Heart Seminary in Detroit. He is due to be ordained to the sacred priesthood in June of this year. Deo volente.
He says he could not be more grateful for the support he has received through the generous contributions of thousands of diocesan families to the Diocesan Services Appeal.
"It is such a gift to be in a place to hear God's call, to be able to discern in such a way," he says.
"I've never had the stress of financial worry. Without that stress, I've really had the freedom to discern my vocation. The people through their generosity have made it possible for me to freely choose while at the same time they are choosing, too. It's a mutual discernment, everyone working together to make it possible."
The Diocesan Services Appeal or DSA is an annual appeal which is used to sustain the ongoing, day-to-day work of the Church across the Diocese of Lansing. Contributions are put to work, right away, in a multitude of ministries and activities that offer direct assistance to individuals and families and to our parishes, schools, and affiliated Catholic organizations.
The theme of this year's DSA is "Offer to God a sacrifice of thanksgiving". The text, taken from the Book of Psalms, is aimed at reminding each of us of how we are to respond to the many gifts we have been given by God, including that great gift of His Son, truly present in the Holy Eucharist.
* To find out more or to donate go to: https://www.dioceseoflansing.org/DSA
* To read more of Seamus's journey to the sacred priesthood, click here: https://faithmag.com/building-our-future