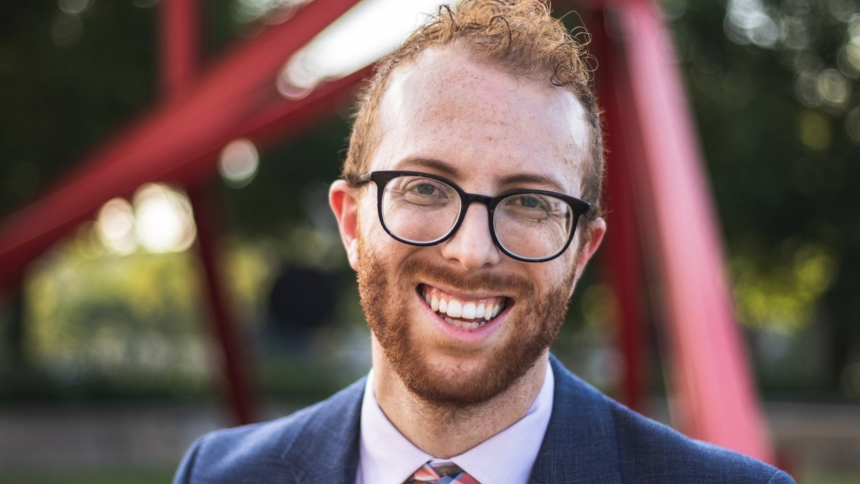 Congratulations to Matt Riedl of the Diocese of Lansing's Communication Department who has been named Multimedia Journalist of the Year by the Catholic Media Association. Deo gratias.
The prestigious award is in recognition of Matt's work with the Diocese of Arlington in Virginia where he was employed as Director of Media Production for three years prior to joining the Diocese of Lansing earlier this year.
"I'm truly humbled and honored to receive the award, but in actuality the recognition is only possible because of the phenomenal team I had the privilege to collaborate with in Arlington. This award is as much theirs as it is mine," said Matt after being awarded the top honor at the Catholic Media Association's Annual Conference in Portland, Oregon, July 7.
"Though we have these awards to recognize excellence in the different dioceses across the country, we're really all players for the same team. I'm so excited to continue to grow and innovate in my new position with the Diocese of Lansing!"
The Catholic Media Association is the official trade organization of Catholic journalists and communications professionals. Its membership includes nearly 250 dioceses and Catholic publications.
Matt's award recognizes outstanding multimedia work undertaken in 2021 for the Diocese of Arlington and especially a documentary he produced in September of that year of marking the 20th anniversary of the 9/11 attack at the Pentagon. To watch the video, click here.
The judges for the Catholic Media Association wrote that the documentary was "harrowing, beautifully produced… thoughtful, compassionate and unforgettable." In their recognition of Matt's work, the judges also wrote that Matt "excels at generating pathos across a range of media."
Matt joined the Diocese of Lansing in March 2022. He is now part of the three-person diocesan communications team. A native of Kansas, Matt is married with one son and another baby on the way.
"Michigan has been great to my wife and son so far, and I'm looking forward to telling the amazing Catholic story in this region," said Matt.
"The story of our faith and how it animates people to good deeds - the ongoing challenge to become more Christ-like - is the greatest story I could hope to tell. To ever greater heights!"
The Runners-up for the Multimedia Journalist of the Year category were Peter Finney Jr., Clarion Herald (New Orleans, La.), and Chaz Muth, Catholic News Service. Congratulations to Matt. Please continue to pray for him and his family as they adjust to living in Michigan.