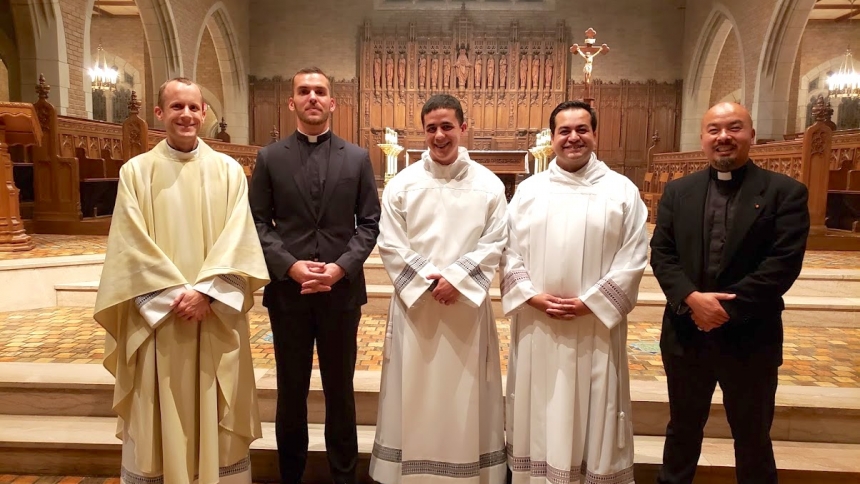 Congratulations to Diocese of Lansing seminarians Tyler Arens, Mark Martin and Miguel Colunga-Santoyo who each took another step towards ordination to the Holy Priesthood at Sacred Heart Major Seminary in Detroit, on Friday, 25 October.
"On behalf of all the Faithful in the Diocese of Lansing, I'd like to offer a heart-felt congratulations to Tyler upon receiving the Ministry of Lector, and to Mark and Miguel upon receiving the Ministry of Acolyte," said Fr. John Whitlock, Director of Vocations for the Diocese of Lansing.
"We are very proud of all of our seminarians, especially in this age of unbelief and rebellion against God. They are a sign of hope for the Church, as well as God's fidelity to not leave us without good shepherds."
Tyler hails from St Mary's in Westphalia, Mark is from St. Anthony of Padua in Hillsdale, and Migel is from St Thomas Aquinas/St John Student Center in East Lansing. Presiding over the sacred liturgy on Friday evening was the Most Reverend Paul Bradley, Bishop of Kalamazoo.
Lectorate, or the Ministry of Reader, is the first of the ministries that seminarians receive on their way to priestly ordination. Primarily, he is appointed to read from Sacred Scripture, with the exception of the Holy Gospels, during Holy Mass and other liturgical celebrations.
Meanwhile, the job of an acolyte is primarily associated with assisting the priest and deacon during Holy Mass, however they will also bring the Blessed Sacrament to the sick and housebound as well as distributing communion during Mass. Amongst other duties, acolytes may also, under the guidance of the priest, present instruction to the faithful.
Please keep Tyler, Mark and Miguel in your prayers in the months and years to come. St Charles Borromeo, patron of seminarians, pray for them.