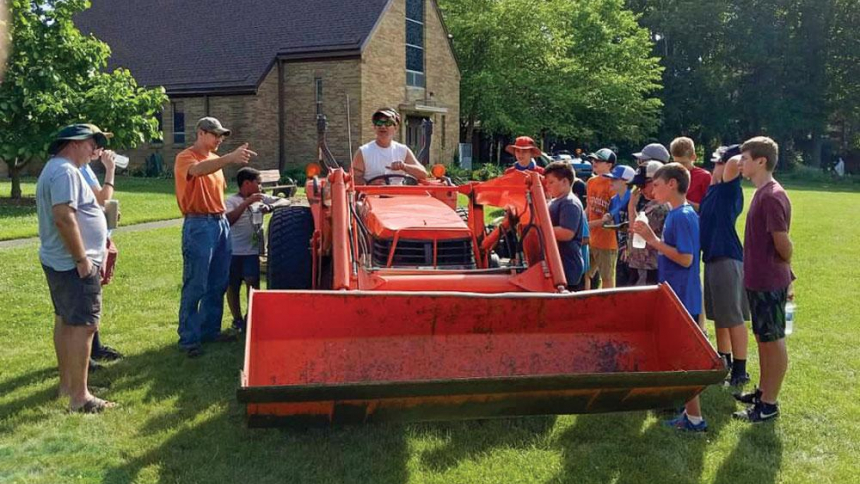 Saint Francis Retreat Center in DeWitt is running a three-day event, June 12-14, aimed at forging teenage boys into virtuous young men.
"Our unofficial motto comes from a John Wayne quote, 'To be a gentleman, you first have to be a man,'" says Mike Kutas, who founded the FORGED event last year.
"I am a big believer that guys like to be guys, but guys these days aren't learning how to be guys. Guys don't learn how to change car tires or start a tractor or run a chainsaw. They don't know how to build a shelter or find food or use a pocket knife. So we are bringing them together to teach them these things."
The retreat is open to boys aged 13-16 and combines the practical with the intellectual and the prayerful.
"Interspersed in with all of that are talks on our faith," he says. "We kind of hit them hard with some theology, the reality of our faith. You know, our faith is not an easy faith, but you've got to understand it. And we talk about why women are so important and why they should be cherished and respected."
"And If guys grow up respecting women, look at all the things that we could change. Single parenthood, abortion and other important social issues down the line."
So Mike and his FORGED team run through all of the basics, both indoors and out. "We show these guys how to sit down at a properly set table and what fork you use and where the napkin goes and how to open doors for ladies and stand at the table when a lady comes to the table."
And, as if that's not enough, FORGED participants have Holy Mass every day and adoration of the Blessed Sacrament every night.
"Last year, we had about 15 participants," Mike says. "But we're eager to keep growing. We're introducing new talks and activities this year, and we're hoping to be able to see this program take off."
The FORGED team has already been meeting and planning, devising a system of assigning three or four campers per team member. Each youth will receive a knife, compass and whistle, along with critical safety and orienteering skills, to take home and keep.
The team also is eager to introduce other tools and strategies via online content and links.
"The more we can be a resource for these guys as they mature and instill in them a very healthy respect for women and a deep appreciation for our faith, that's the goal," Mike says. "We think that would be beautiful."
* Interested? For more information: https://www.stfrancis.ws/forged