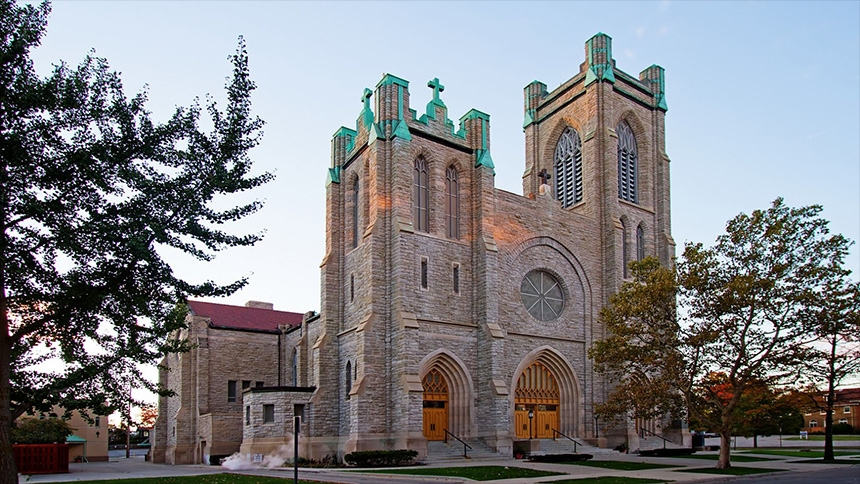 Today the Diocese of Lansing celebrates the Anniversary of the Dedication of Saint Mary Cathedral in Lansing. Happy feast day!
"As the mother church of the diocese, this cathedral is for all folks, it's for all people," said Father Karl Pung, Rector of the St Mary Cathedral, during his homily, December 10.
"That means that the 'charism, if you like, of this church is this: 'If you don't belong anywhere else, you belong here'."
St. Mary's was completed and dedicated on December 8, 1913, the Solemnity of the Immaculate Conception. The Gothic church was built using wagon loads of local field stone hauled to the construction site by farm families and faced with Indiana limestone. The design and construction project were overseen by E.A. Bond, a Lansing architect. The overall cost was $135,000.
Upon the creation of the Diocese of Lansing in 1937, St. Mary was then dedicated as the cathedral of the diocese by Bishop Joseph Albers. Although the exterior of the church has remained largely the same over time, the interior was remodeled in 1968 under Bishop Alexander Zaleski. It was again remodeled in 1987 under Bishop Kenneth Povish.
Features of artistic note include a marble carving of the Last Supper originally part of the 1913 high altar; vibrant, stained glass windows from Germany; and painted Stations of the Cross from Czechoslovakia added in the 1920's.