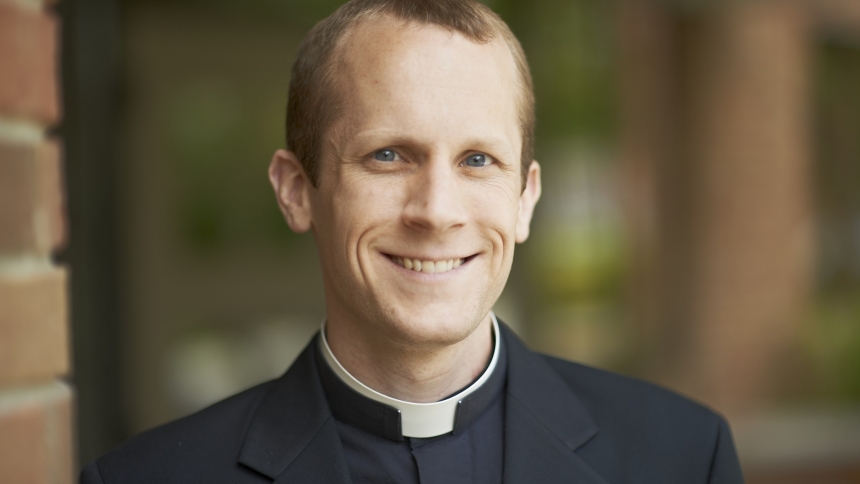 Meet Father John Whitlock, the Diocese of Lansing's new Director for Vocations, who tells this month's Faith Magazine of his great hope that sufficient numbers of young men will heed God's call to the Holy Priesthood in the months and years to come.
"Two reasons for hope come to mind," said Father Whitlock, "Above all, my hope is in Jesus Christ. I know he will not abandon his Church. We are in a time of painful purification, but he is and will always be with us. In the end, that is all the hope we need," adding that, "in a similar way, I know God has not stopped calling new disciples."
Father Whitlock grew up in St. Johns, and is a graduate of Grand Valley State University in Grand Rapids, and Sacred Heart Major Seminary in Detroit. Before entering seminary, he worked as a certified public accountant and as a corporate internal auditor. He was ordained to the Holy Priesthood by Bishop Earl Boyea in 2013.
Father Whitlock has since served as parochial vicar at Queen of the Miraculous Medal Parish in Jackson and Our Lady of Fatima Parish in Michigan Center, and as a formation adviser and spiritual director at St. John Vianney College Seminary in St. Paul, Minnesota. What he witnessed there has given him great hope for the future.
"The young men in the seminary today have grown up in a very difficult time, not only in the world but in the Church too, and yet each of them has been moved by God to go completely against the world and to pursue his call in their lives in the seminary, often at great personal cost," he tells Faith.
"I never ceased to be deeply edified and inspired by their faith, earnestness and generosity, especially at such a young age (most of them are between the ages of 18 and 22). I have often wished that more people could come and see what the seminary is like today. If they did, I think they would have a lot of hope"
Read the full interview at: https://faithmag.com/meet-father-john-whitlock-new-director…