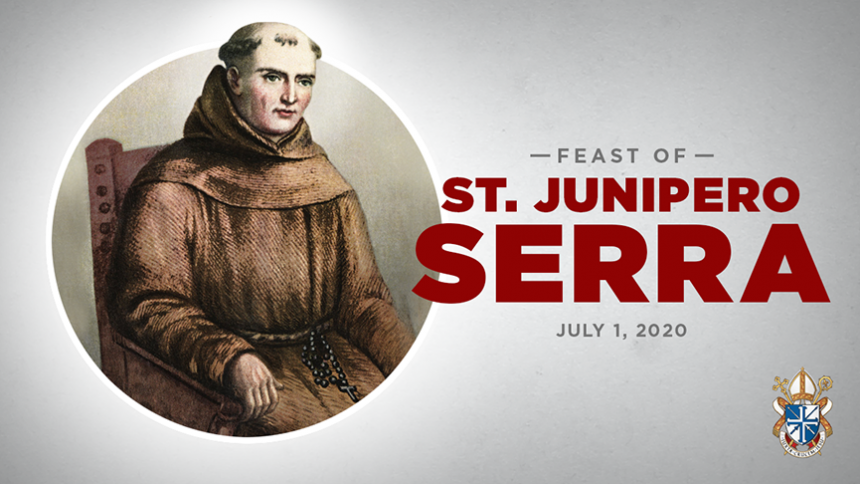 Today is the Feast of Saint Junipero, the 18th century Franciscan missionary who did much to bring the Gospel of Jesus Christ to the people of North America's west coast baptizing, as he did, over 6,000 native Americans during his lifetime. Happy Feast Day!
Pope Francis canonized Saint Junipero Serra during his visit to the United States in September 2015 making him the nation's first Hispanic saint. In recent weeks, however, anti-racism protestors have accused Saint Junipero of oppressing native Americans and, indeed, mobs have torn down statues of him in both Los Angeles and San Francisco.
Today, upon his feast, the Diocese of Lansing's Coordinator of Hispanic Ministry, Susana Chapa, explains why she believes Saint Junipero was a great man and a great saint who was did great good for all those he served as a Franciscan missionary. Susana writes:
"Saint Junipero Serra was born into a wealthy Spanish family, he received a good education, he taught philosophy and theology at the University of Padua in Italy for 12 years and yet he gave up his wealth, his comfort, his academic standing, everything, in order to venture to a faraway land where he would face great risk and great discomfort and all to bring the greatest gift, the greatest good imaginable, Jesus Christ, to people who did not yet know the Good Lord."
"As a Franciscan he embraced the most radical form of poverty which saw him, upon arrival in the New World, choose to walk on foot from the Port of Vera Cruz to Mexico City – that's 250 miles! He then founded several missions in Mexico, the first being in Jalpa in the State of Queretaro. It's a place I know well as our family would holiday there when I was younger. It was also there that Saint Junipero met with native people who practiced witchcraft. His kindness, piety and learning, however, led those people peaceably embrace the Gospel of Jesus Christ. To this day, he is still very beloved by the vast majority of the people in that part of Mexico."
"Saint Junipero then went onto Baja California and California where he founded many other mission sites. Throughout, he did much to defend the native people, including on one occasion, walking all the way to Mexico City and back on foot to ensure that that Spanish Viceroy upheld the legal rights of the people his care."
Do have a very happy and holy feast day! Saint Juinpero Serra, pray for us!