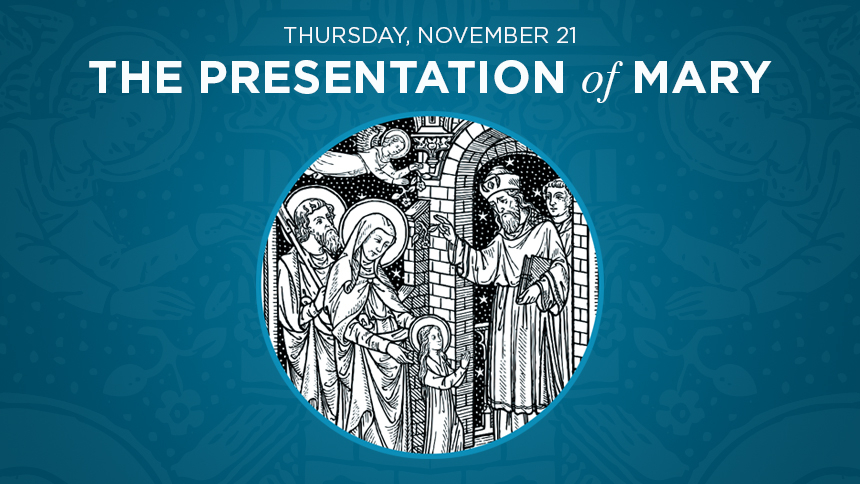 Today is the Feast of the Presentation of Mary, recalling that day when the parents of Mary, Saints Joachim and Anne, brought their daughter, when still a child, to the Temple in Jerusalem to consecrate her to God. Happy Feast Day!

"Saint Joachim and Saint Anne's pilgrimage to Jerusalem to present their young daughter to Almighty God is a beautiful reminder of the happy duty that falls to all Catholic parents of being the primary educators of our children in the Faith," said Richard Budd, Director of Marriage and Family Life for the Diocese of Lansing, 21 November.

"This unique parental role is, of course, fully supported, but never usurped, by our parish and our children's school," added Richard, himself a husband and father of three young children.

"We are the ones who, as ministers of "the Domestic Church", are primarily entrusted with helping our children to grow in faithfulness to Jesus Christ and his Holy Church so that they can become the happy and holy adults that God wants them to be."

Today's feast originates as a result of the dedication of the Basilica of Saint Mary the New, built in 543 by the Byzantines under Emperor Justinian I near the site of the ruined Temple in Jerusalem. This basilica was destroyed by Persian invaders in the 7th century.

The feast day was then celebrated in the Eastern Church from the 11th century and in the monasteries of Southern Italy by the 9th century. It was then introduced into the Papal Chapel, then at Avignon in France, in 1372 by decree of Pope Gregory XI.

In his 1974 encyclical Marialis Cultus, Pope Saint Paul VI wrote of today's feast that "despite its apocryphal content, it presents lofty and exemplary values and carries on the venerable traditions having their origins in the Eastern churches."

Do have a very happy and holy day. Saints Joachim and Anne, pray for us! Holy Mary, conceived without sin, pray for us!