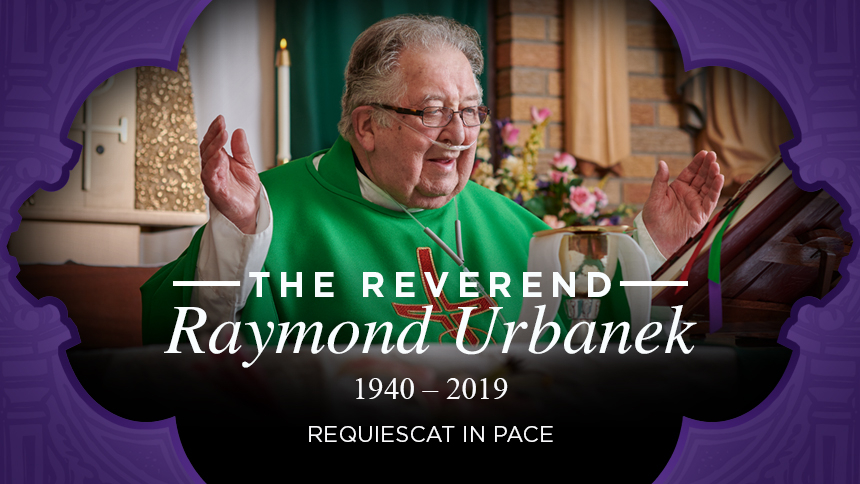 Of your charity, please pray for the repose of the soul of the Reverend Raymond J. Urbanek, Senior Priest of the Diocese of Lansing, who died Sunday, November 24, 2019, the Solemnity of Christ the King. He was 79 years old. May he rest in peace.
"Fr. Ray was a devoted priest who loved Christ and loved the people of God," said Fr. Bob Bacik, Pastor of Holy Family in Ovid, Fr. Urbanek's former parish where he also lived out his retirement.
"His advice and humble example have helped make me a better priest and pastor. He will be greatly missed. May he rest in peace."
Raymond Joseph Urbanek was born April 8, 1940, in Wyandotte, Michigan, the son of Joseph W. and Lillian E. Urbanek (née Wolniewicz). He was ordained June 1, 1968 at Blessed Sacrament Cathedral, Detroit, by John Cardinal Dearden for the Sylvestrine Congregation of the Benedictine Order.
"I always had a feeling I was meant to be a priest," recalled Fr. Urbanek in an interview with Faith Magazine in July of last year, "Other careers crossed my mind, but entering the monastery and being ordained was always the most prominent. I have enjoyed being a priest for 50 years, and I'd do it all over again."
For 20 years Fr. Urbanek served as a monk with the Benedictines, only able to preside at Holy Mass on the weekends when he was sent to a local parish, "I wanted greater contact with the people and opportunities to use my vocation more often, so I transferred to the Diocese of Lansing," something he did in 1995.
"I was a sacramental minister in Montrose before going to St. John the Evangelist in Fenton. After three years, I became the pastor of St. Mary in Mt. Morris. Eight years later, I was appointed pastor of Holy Family in Ovid. I liked moving around to different parishes. The only negative part," he chuckled, "was moving all my stuff!"
In later years, he suffered from Chronic Obstructive Pulmonary Disease and Emphysema. His oxygen tank became his constant companion and yet, he kept a full schedule.
"The first miracle of the day is I can get over to church. I say Mass every Thursday morning, Saturday evening and Sunday morning. Someone helps me into the sanctuary, where I sit on a stool through the whole Mass; our deacon, John Marsh, assists me. On Saturdays, I also hear confessions," he said.
Looking back upon his decades as a priest, he said his favorite aspect of the vocation was "when I'd get called in the middle of the night to go to the hospital or a home to anoint someone. That is when I felt most alive. I never grumbled. I truly enjoyed doing it."
Fr. Uranek is survived by several nieces and nephews. He was preceded in death by his parents, two brothers Eugene and Stephen Urbanek and his sister Mary Ann Brown. May they rest in peace.
• Father Urbanek's body will lay in state Monday, December 2, from 2 P.M. until 8 P.M. at Holy Family Church, 510 Mabbit Rd, Ovid, MI 48866, with recitation of the Holy Rosary at 7.30 P.M. Requiem Mass, 11 A.M. on Tuesday, December 3 at Holy Family Church. Bishop Boyea will be the main celebrant. Burial to follow at Calvary Cemetery, Mt. Morris.
• Reverend Raymond Joseph Urbanek, Assignments:
1968 – 1971 Saint Benedict Monastery, Oxford, Michigan
1971 – 1984 Associate Superintendent of Catholic Schools, Archdiocese of Detroit
1971 - 1984 Parochial Vicar, Saint Scholastica, Detroit
1971 – 1992 Administrator / Spiritual Director, Oblates of Saint Benedict
1984 – 1990 Subprior, Saint Benedict Monastery, Oxford, Michigan
1984 - 1992 Associate, Saint Irenaeus, Rochester Hills
1992 – 1994 Parochial Vicar, Saint Mary, Mount Morris
1992 - 1994 Sacramental minister, Good Shepherd, Montrose
1994 – 1997 Parochial Vicar, Saint John the Evangelist, Fenton
1997 – 2004 Pastor, Saint Mary, Mount Morris
2004 - 2012 Pastor, Holy Family, Ovid
2012 - 2019 Senior Priest Status