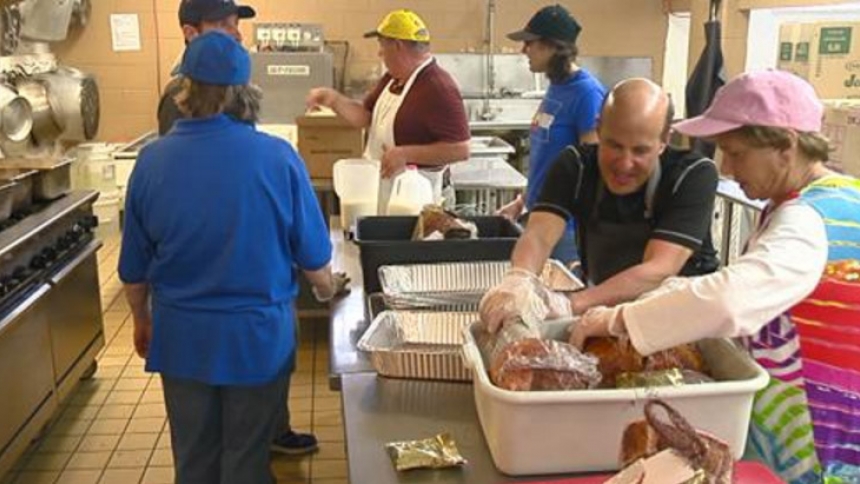 FLINT (WJRT) - (4/16/17) - Dozens of volunteers came out to help prepare for Catholic Charities of Genesee and Shiawassee Counties' Easter dinner Sunday in Flint.
"We had the ham donated, the Easter baskets and a lot of the produce; it just makes everything much better and it's appreciated more when its donated," said Catholic Charities' John Manse.
Volunteers helped to prepare meals for upwards of 500 people Sunday afternoon, partly due to the weather.
"The spirit for Easter is much higher especially when you have nice beautiful sunny weather," he said.
Among those volunteering was Calvin Mcqueen, and he's no stranger to Catholic Charities - he's been donating his time with the organization since the 70's.
"I feel the need to help the community so I am always here to help the community and give back because one day I might be here and I might need some help," he said.
Preparations started long before Sunday.
"We have to prep the ham a couple days before, all the produce is coming in, so a lot of people don't understand like Christmas and Thanksgiving, it takes about a month to prepare for all of that," Mcqueen said.
And for Mcqueen, it's not about the time he puts in, it's what he gets out of it that has him coming back year after year.
"It brings tears to your eyes and so I love doing it and just like say hey, we did this, we all came together as a group and made this happen. That's what makes it good about it," he said.
Catholic Charities of Genesee and Shiawassee Counties has been assisting the less fortunate in Mid-Michigan since 1941.