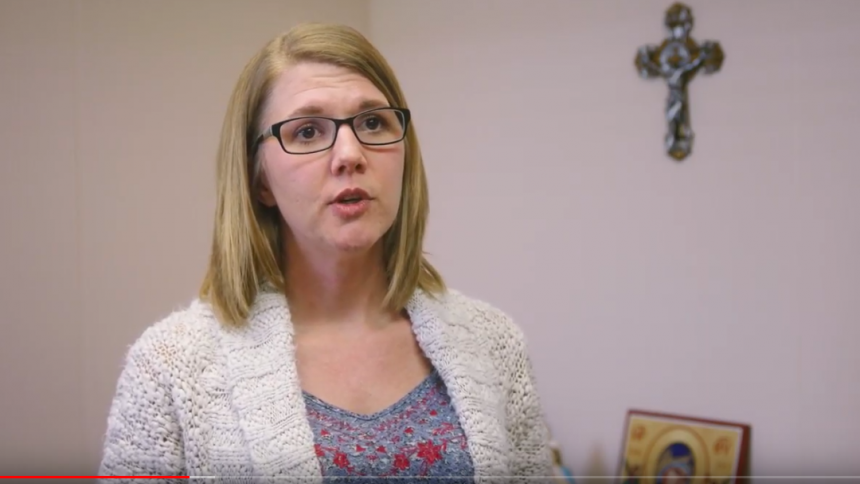 The Diocese of Lansing today issued a video briefing to its parishes, schools and other agencies to help them implement a new diocesan policy on gender identity in a way that fosters the highest standards of pastoral care for those suffering with gender dysphoria while also giving staff and volunteers the capability and confidence to safeguard those in their care from contemporary gender ideologies such as "transgenderism".  
"Our watchwords are 'compassion' and 'truth' knowing that both are required for a genuinely loving approach to this pastorally sensitive issue which helps promote authentic human happiness for those people – especially young people – who find themselves confused about their gender identity," says Jenny Ingles, Director of Fertility and Life Ministries for the Diocese of Lansing and co-author of the new policy. Jenny is featured in the new video briefing. 
"These new guidelines – which, merely confirm and clarify our existing practice – are but a framework to enable our principals, pastors, and others, to walk with confidence and compassion with each young person, each family, who need our help in the knowledge that every such pastoral situation is unique and will require a custom-made approach if we are to truly love that young person and their family." 
The new Diocese of Lansing policy, developed in response to a February 2019 Vatican document entitled Male and Female He Created Them was published earlier last month. It rejects any "gender theory" that "denies the difference and reciprocity in nature of a man and a woman," and considers them as "merely the product of historical and cultural conditioning." Instead, it called for a respectful dialogue on the issue coupled with pastoral compassion for those who are confused about their gender identity. The Vatican publication also affirmed Pope Francis' call in his 2016 document on the pastoral care of families, Amoris Laetitia, in which he challenged gender ideology and wrote that "the young need to be helped to accept their own body as it was created."  
"Gender dysphoria" is defined by the American Psychiatric Association as "clinically significant distress or impairment related to a strong desire to be of another gender, which may include desire to change primary and/or secondary sex characteristics." This desire to change sex and its accompanying distress may be so intense it can lead to depression and anxiety and have a harmful impact on daily life.
In recent decades, there has been a growing trend among many counselors and clinicians to direct those with gender dysphoria towards surgical or hormonal interventions in an attempt to alleviate their symptoms including, controversially, prescribing puberty blocking drugs and cross-sex hormones to children and adolescents. The new Diocese of Lansing guidelines reject this approach as unproven, unethical, and unhelpful.
"Such invasive treatments, especially for children, can inflict irreversible physiological damage coupled with long-term psychological, emotional and spiritual damage upon an already vulnerable person," says Jenny Ingles.
"Our approach seeks to support moms, dads and families in helping their loved one – especially if that loved one is a child – through their gender confusion without further fueling that confusion."
Since its launch last month, the new Diocese of Lansing policy has found support from both medical professionals and media commentators who are expert in the area of gender dysphoria. 
"I fully support the Diocese of Lansing's policy which outlines the charitable care of persons who experience gender dysphoria," said the eminent reconstructive surgeon, Dr. Patrick Lappert M.D..   
"I find it to be an approach that includes the welcoming, and the spiritual care of persons who experience gender dysphoria, and further find that it is based upon the best science available."
Dr. Lappert has been practicing in the field of plastic surgery for over 25 years during which time he served as Chief of Plastic Surgery at the largest military hospital in the world in Portsmouth, Virginia. He is part of a coalition of medical specialists who endorse the long-established counselling practice of "watchful waiting" for children with gender confusion. This approach, he says, "supports and nurtures children as they pass through a time in their life that may be filled with confusion and pain" but, ultimately, he concludes, "is an approach that insists upon those immutable realities of the nature of the human person."
"The best scientific literature shows us that when this approach is used, over 85% of children abandon their cross-sex sense of themselves during adolescence, and that if followed into young adulthood, the number rises to over 90%," says Dr. Lappert. 
The Diocese of Lansing policy has also found support among media commentators including British journalist Madeleine Kearns who has written extensively on the issue of gender dysphoria. 
She too rejects the more recent "affirmation model" for treating gender dysphoria among children as "experimental, ideologically motivated, and -- according to some researchers -- actually serves to lessen a child's chances of psychological realignment with his or her sex by the end of adolescence."
"In its policy on gender identity, the Diocese of Lansing cites the U.K. High Court's recent moratorium on using "puberty blockers" and "cross-sex hormones" in order to permanently interfere with the sexual functioning of gender dysphoric young people," notes Madeleine.
"Having reviewed the evidence from all sides of the debate, impartial and secular judges concluded that it was 'highly unlikely that a child aged 13 or under would be competent to give consent to the administration of puberty blockers,' and added that it was 'doubtful that a child aged 14 or 15 could understand and weigh the long-term risks and consequences of the administration of puberty blockers'."
"Thus, the Diocese of Lansing shows prudence and leadership in favoring evidence-based care – other community leaders would be wise to do the same."