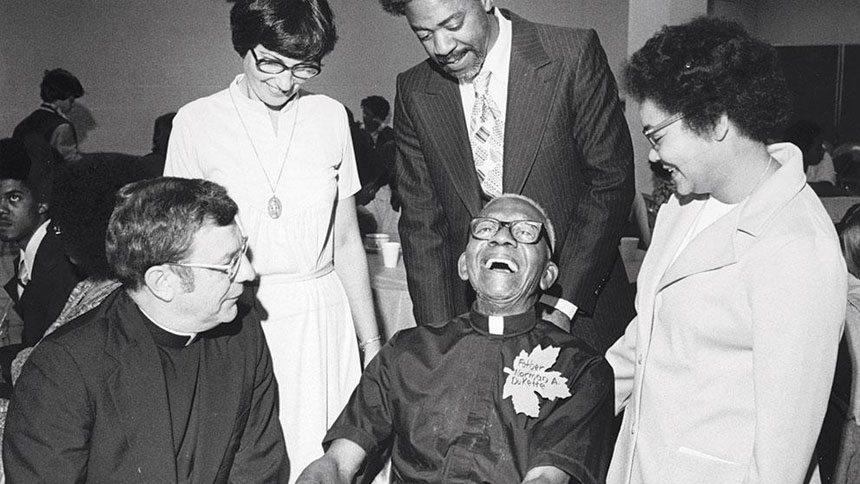 When the Diocese of Lansing was established in 1937, Father Norman DuKette was already ministering to black Catholics in Genesee County. Ordained in 1926, Father DuKette was the first black priest from the See of Detroit, and was sent to serve the Flint area in 1929.
Father DuKette founded Christ the King parish in 1929. He celebrated the first Mass of the "Colored Catholic Mission," as it was known at the time, at St. Joseph Hungarian Church with just three other people. This was on the feast of Christ the King. Choosing Christ the King as its patron, the congregation celebrated Mass in the homes of parishioners, and then a Methodist parsonage, until enough money was raised to purchase an old government building. About 200 families continue to gather at Christ the King to worship today.
Father DuKette served the Flint community until 1970, when he retired at the age of 80. The Father DuKette Intercultural Center opened in 1977 to serve the needs of blacks in Flint, and at its opening in 1980, DuKette Catholic School was named to honor his contributions to the black community. He died in 1980 at the age of 89. Although the school closed in 2008, it was an important part of the community for almost 30 years. According to one grandparent, "parents sent their children to DuKette because of the small classes, good teachers and strong emphasis on God and values."
Knights of Peter Claver in Flint
The Knights of Peter Claver is the largest black Catholic lay organization in the United States. Named for the Spanish saint who served Africans enslaved in Colombia and the West Indies in the 16th and 17th centuries, it was founded in Mobile, Ala. in 1909 by the Josephites. The organization had councils across the country by 1946, and currently has more than 700 units throughout the United States.
In Flint, Father Norman DuKette Council #90 was established in 1942 by lay members of Christ the King parish, and the Ladies Auxiliary Father DuKette Court #90 was founded a year later in 1943. Council #90 declares the mission of the Knights of Peter Claver as its mission: "Our purpose is to render service to God and his Holy Church, render aid and assistance to the sick and disabled, and promote social and intellectual association among our members."
The Knights are dedicated to service, inspired by the work of St. Peter Claver, including promoting civic and social justice, contributing to charity, nurturing relationships within the community, youth and family, and promoting education by providing scholarships for post-secondary education. Their mission is carried out through the work of several divisions for men, women and young people.