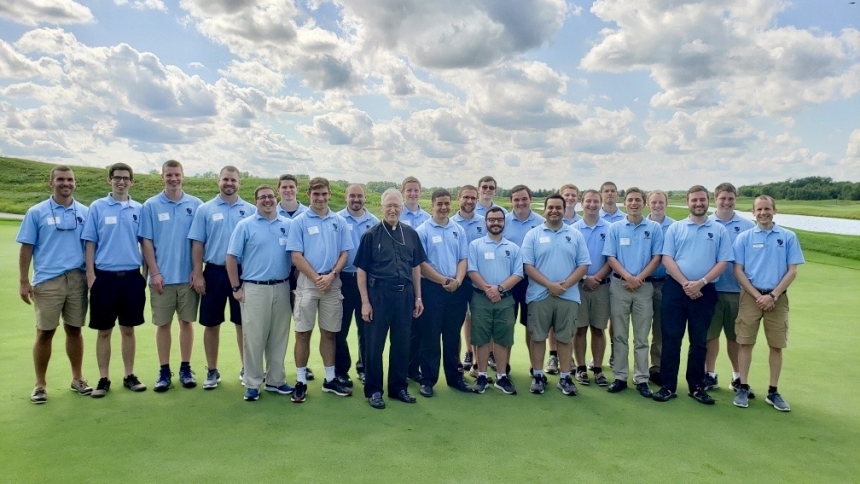 Meet the Diocese of Lansing seminarians who will benefit enormously from this year's Bishop's Golf Classic fundraiser played at the Eagle Eye Championship Golf Course and adjacent Hawk Hollow Golf Course, Lansing, 19 August 2019.
"The Diocese of Lansing has been blessed with an increased number of seminarians in recent years but that requires a very welcome increase in demand for financial support for seminary education," explained event organizer, Matt Hufnagel, Vice President of Development with the Diocese of Lansing Catholic Foundation.
"That's why we are extremely grateful to the increased number of golfers who participated in this year's Bishop's Golf Classic as well as the event's very generous sponsors and donors who helped to make the day such a happy, enjoyable, successful occasion – and all in support of the very worthy cause of seminary education."
In total, 200 golfers participated in this year's Bishop's Golf Classic, an increase of more than 10% on last year. The event was hosted and supported by the Knights of Columbus Councils of the Diocese of Lansing.
The day began with a prayer and blessing imparted by Bishop Earl Boyea. He then toured the two golf courses to meet, greet and thank participants for their support and generosity.
Also taking to the courses throughout the day were 22 of the Diocese of Lansing's 24 seminarians who were similarly keen to express gratitude to those taking part in the fundraising event. In total, the diocese has two more seminarians than last year, and three more enrolled in major seminary this year than last.
The day concluded with a reception and dinner in the Eagle Eye Banquet Center during which each of the students for the priesthood were introduced by Father John Whitlock, Vocations Director for the Diocese of Lansing. Bishop Boyea then oversaw the presentation of prizes to the winners of the day's various golfing competitions before appropriately concluding proceedings with a blessing.
• If you would like to support the education and formation of these fine young men who are training for the holy priesthood, you may make a gift to The Catholic Foundation, attention Seminarian Education and Formation, 228 North Walnut, MI 48933. More details at https://www.dioceseoflansing.org/…/The%20Catholic%20Foundat…