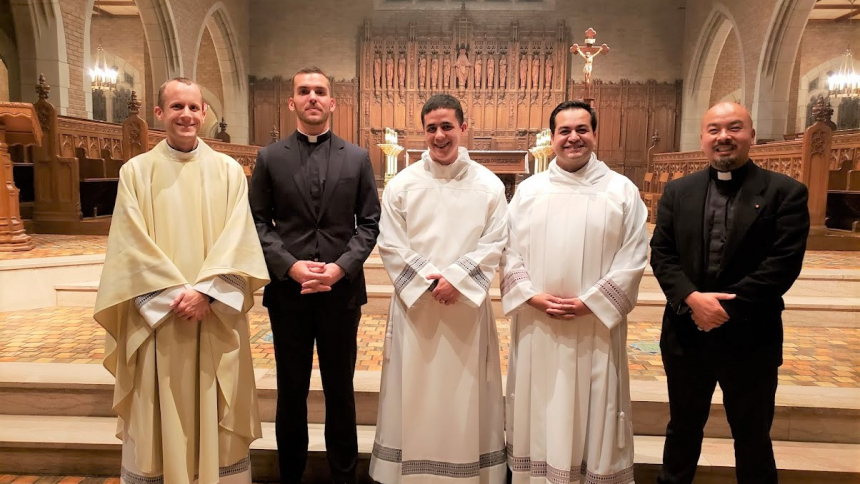 A Seminary is a faith (ecclesial) Community in which men prepare to become priests by living the experience of the Twelve gathered with Jesus, listening to his Word, entering His Paschal Mystery (sacrifice), and awaiting the gift of the Holy Spirit for mission.
 
The Seminary forms men to be like jesus, the good shepherd, to serve the Church and the world as a priest. Seminarians learn how to respond to Jesus, "Do you love me?" with total self-giving. College Seminary is for men who have earned a High School degree but have not yet obtained a bachelors degree even if they are currently enrolled in college.  The Diocese of Lansing currently sends such men who desire to discern the priesthood in college to St. John Vianney Seminary in St. Paul, Minnesota.
 
Pre-Theology is a two year program for men who have already obtained a bachelors degree but have not yet acquired a bachelors in philosophical studies.  Such studies are pursued at Sacred Heart Major Seminary in Detroit, Michigan. Theological Seminary (Theologate) is for men who have earned an Undergraduate Degree with a major in philosophical studies. They will pursue a Masters of Divinity Degree and/or a Baccalaureate in Sacred Theology at Sacred Heart Major Seminary in Detroit, Michigan. 
 
After completing his philosophical studies the bishop may ask a man to pursue his theological studies at the Pontifical North American College in Rome, Italy.  This is a normally a six to eight year process depending on an individual's background.  Each year of seminary is meant to provide a man with an opportunity to pray, study, and discern if God is calling him to be a priest.  It is also a time for him to develop the skills and virtues necessary for the work that accompanies the priesthood.  It is important to note that this process entails freedom and no man in the seminary is certain to be ordained.  He and the Church are prayerfully contemplating whether or not the priesthood is indeed his call.
 
The content of formation: Intense formation in the seminary prepares a man to give himself freely and generously to the Lord and everyone as Jesus' priest. This formation, which continues after ordination and extends over a priest's lifetime, has four integral components:
 
Human - enables a man to be a bridge for others in meeting Jesus. He first must understand his own humanity in all of its strengths and weaknesses in order to then lead God's flock towards a greater understanding of themselves.  Future priests learn to relate to others with effective maturity, to respect every person, to love truth, to be loyal, to have a sense of justice and be true to one's word, to be a man of integrity, balanced in judgment and behavior, and to be sensitive and compassionate.
 
Spiritual -  enables a seminarian to seek the Lord and live in union with Him by listening to the Word, in meditation, in celebrating the mysteries of faith – especially the Eucharist – and in the service of charity.  A Catholic priest is sacramentally "in persona Christi" (in the person of Jesus Christ) for the People of God and so a man in seminary must decrease and allow Christ to increase within him.  This is also essential in preparing a man for a celibate life that will free him for service to others but also calls for a deep and fulfilling relationship with the Lord which will bring him fulfillment in all aspects of his priestly life.
 
Pastoral - enables men to become true shepherds of souls by communion with the love of Jesus. A future priest is prepared for the ministry of the Word, the ministry of worship and sanctification and the ministry of the servant-shepherd. 4. Intellectual - In the study of Philosophy and Theology, with a lively faith, a future priest studies the Word of God and Sacred Tradition and further prepares himself for his priestly ministry. Intellectual formation enables the seminarian to achieve a unified vision of the truths revealed in Christ and the Church's life of faith and reason.  
If you think you are called to the challenge of priesthood and want a life of joy and amazement at the power of God in you and through you for others, then it may be time to seriously discern in seminary.
Contact our Vocations Director for more information: Fr. John Whitlock, Director of Seminarians,  Diocese of Lansing 228 North Walnut Street, Lansing, MI 48933 E-mail: jwhitlock@dioceseoflansing.org  or Phone: 517-342-2507