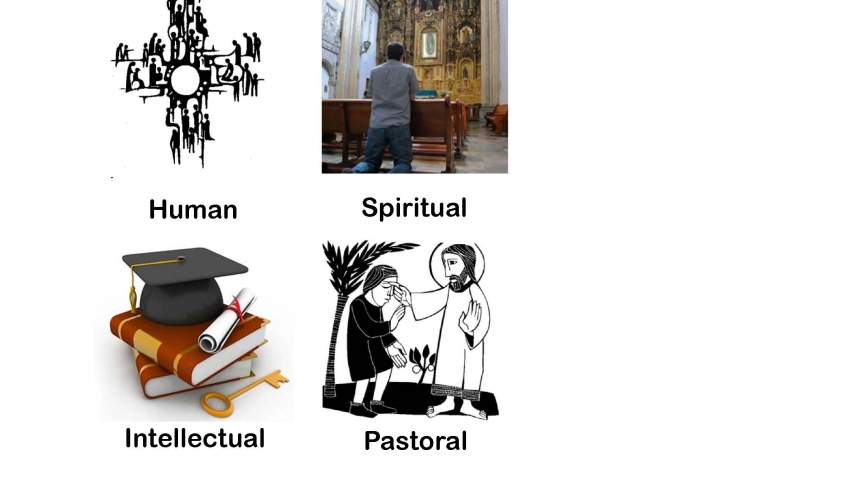 The Four Pillars

of Priestly Formation are standard in both of the Diocese seminaries.   (Picture above)
Men who enter St. John Vianney will receive their Bachelor's Degree in Philosophy and have opportunity to transfer to Major seminary at Sacred Heart, Detroit.
ST. JOHN VIANNEY, St. Paul, Minnesota   *UNDER 18 must provide permission and health form* 
2019 Dates -   February 14-16   REGISTER HERE      Deadline:  February 6
Transportation, Room, meals, Tour of seminary and daily Mass included.   
 
Men who enter Sacred Heart Major Seminary will receive their Master's Degree in Divinity.  After completion of their Master's degree they will be eligible for Holy Orders.
SACRED HEART MAJOR, Detroit, Michigan 
2019 Dates -  January 17-20 
Room, meals, tour of seminary and daily Mass included,  Transportation is on your own.
Visits to Seminary

are arranged through the Office of Vocations between a prospective candidate and the Diocesan director.  Typically the visits will take place in November and February.  For interest in any upcoming trips please see sidebar for flyers and contact Fr. John Linden, Director of Seminarians at 517-342-2507 or email him at jlinden@dioceseoflansing.org.