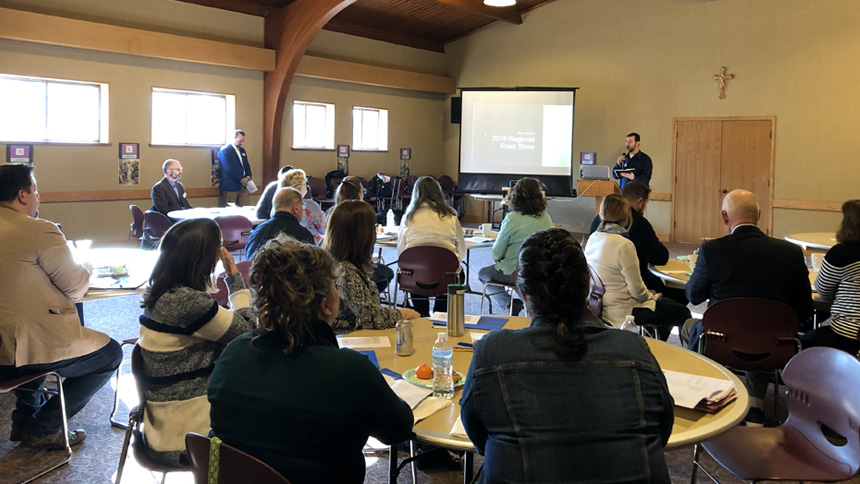 Spring Regional Meetings:    April 27     or      May 6 (NEW DATE! see note below)
Bishop Boyea will be celebrating Mass for us! (We are waiting to see if he is available on our new date: May 6.)
The Regional Meetings are annual meetings held each spring and run by members of the diocesan Curia. The meetings are meant to bring parish lay ministers together for timely presentations, discussions, and prayer.
We are excited to present this year's Spring Regional Meetings!
Please note that unlike previous years, we will be holding 2 Meetings, rather than 4.
This year we will be discussing Realigning Resources for Mission--presented by Fr. Matthias Thelen, the head of the RRM Committee, and Deb Amato, chancery chief of staff and member of the RRM Committee; we will also discuss what we've learned from the pandemic.  There be time set aside to pray together in front of the Blessed Sacrament, plenty of time for working through questions as well as group discussion.
We hope to see you there!
Two Dates to Choose From:
NEW DATE - May 6 @ St. Patrick, Brighton (Activity Center in PLC)
April 27 @ Cristo Rey, Lansing 
Due to a number of complications regarding personnel for this event we have postponed the April 15 date to May 6.  There is no need to re-register for this event if you were already signed up for the April 15 date.  If you need to cancel your registration or switch dates please email Liz Neuens at eneuens@dioceseoflansing.org.
Members of the Regional Meeting Team:
Rich Budd – Director of Marriage and Family
Tim Carpenter – Director of Religious Education
Susana Chapa – Director of Hispanic Ministries
Brian Flynn - Director of Middle School and HS Ministry
Dawn Hausmann – Director of Consecrated Vocations, Young Adult Ministry, and Delegate for Consecrated Life
Jenny Ingles – Director of Fertility and Life Ministries
Craig Pohl – Director of Evangelization
Jeremy Priest – Director of the Office of Worship
Bert Schomberger – Lay Ministry Coordinator